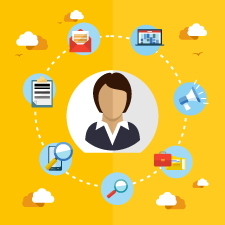 Increasingly, advisors are considering adding "women" as a target market for their practice. Although gender is a differentiation point, women represent a very broad and diverse group and should be treated as such. It is possible, however, to leverage key facts and statistics to refine how you connect with women investors. Here are some important best practices for marketing to women and strategies to create a true niche within this group.
Key Facts and Statistics About Women
These facts can provide some insight when targeting women investors, as well as add value to your female client relationships:
According to the Bureau of Labor Statistics, women represent 47 percent of the workforce, and the percentage of household income earned by women has been steadily increasing.
Women now earn the majority of bachelor's, master's, and doctoral degrees, according to the Department of Education.
According to projections in the 2011 Statistical Abstract of the U.S. Census Bureau, women will have—on average—five more years of life expectancy than men by 2015 (yes . . . in a few short days!).
According to a report by the U.S. Department of Labor, the average woman will have lost $431,000 over her working lifetime because of the earnings gap.
Potential Planning Issues to Address
Every woman will have a different financial situation and planning goals. There are, however, some common issues that may be worth discussing in depth.
Appropriate investment risk. Women tend to be more conservative investors, meaning they may need additional education and discussion around risk tolerance and long-term portfolio planning to match their retirement and lifestyle goals.
Savings gaps. Women are more likely to have taken time out of the workforce to care for children or aging parents or both at the same time. These women face certain challenges in the workplace and may have less in the way of earnings put to savings or contributions made to company-sponsored retirement plans. They may also have a potentially lower social security benefit if their time in the workforce and wages earned therein were significantly reduced.
Surviving a spouse. Due to their longer average life expectancy, women may wind up needing to deal with spousal assets and also be placed in the role of primary financial decision maker (if they weren't already). Estate issues, investment of inheritances, required distributions, and more may place added financial burden on a surviving spouse.
Long-term care. Women may be more likely to require long-term care due to their lengthier life and the possibility of being alone during their later years.
Financial awareness. Some women who previously may not have been in the position of managing finances, or even those who are, may not feel educated on investment terminology and planning issues. Busy lives, the delegation of decision making, and other reasons for being unaware all come into play. Taking time to educate your female clients may be especially important and helpful in cementing the relationship.
Position Your Planning Services for Women
How you position yourself with women will vary based on your personality, service offering, and the specific type of client you wish to acquire (or retain). Be sure to incorporate the following best practices for marketing to women in your strategic planning:
Consider a niche. "Women" is not a niche—it's too diverse of a group. To leverage niche marketing strategies, begin by defining a narrower, specific female market—for example, business owners, physicians, or executives. This will help you create impactful communications and develop recognition as a specialist.
Create a plan. It's vital to build a marketing plan and implement it. This doesn't change with women as a target market.
Be authentic. As with any marketing material or communication, you don't want things to feel forced or put on. Think about how you and your firm are ideally suited to working with a specific group of women and their needs.
Focus less on:

Using "female colors," such as pink, in your targeted marketing
Using "things women like," such as flowers, in your targeted marketing
Stating "facts" about women in your marketing; you may be off base in your assumptions or be stating the obvious, creating a negative impression or alienating prospects in the process
Developing "female-specific" marketing; focus instead on issue-specific marketing driven by data, such as life expectancy

Focus more on:

Emphasizing what makes you better than your competition
Listening and asking questions where relevant so you may illustrate how your expertise is applicable
Collaborating with clients
Educating clients on investments and issues
Learning as much as you can about the specific planning hot buttons for your niche market and addressing those in your marketing and discussions
By focusing on these guidelines, you'll be on your way to creating an authentic, actionable plan for attracting women to your practice.
Do you target your services to a niche group of women? What practices or strategies have you found to be the most useful?