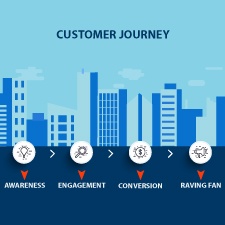 Your marketing efforts are designed to create brand awareness and engage with your target audience. But how can you effectively use those efforts to turn prospects into clients? I'm going to help you identify ways to do just that—and it all begins by writing down the prospect journey.
Write It Down!
The first thing I'd like you to do is write down, in chronological order, the journey an individual takes from being a prospect to becoming your client (e.g., targeted magazine ad, to a visit to your firm's homepage, to a call to your office, to the first meeting). I think you will find that this exercise will naturally lead you to keep asking, "And then what?" To illustrate what I mean, let's look at some examples.
Example: Business Owners and Executives
Let's say you want to focus on business owners and executives. First, you post an infographic on LinkedIn highlighting retirement planning for executives. The title of that infographic should do the selling. That way, those in your network who may just scroll through your post can still understand the infographic's message and assign value. But best-case scenario? It will engage your audience and make them stop. You have provided a great title that intrigues them, and now they want to learn more. And then what?
With a compelling message, ideally your prospects will be interested in the information and learn from it. But it's also likely that they will want the ability to click on it. So, you better make that infographic clickable! Think about where you want them to go and what you would like them to see. There are lots of options here, but for this example, you decide to send them to your website. And then what?
When prospects get to your website, they will expect to see the infographic, perhaps with further discussion. They might choose to remain there, or they may browse your site to see if there is more information they're interested in. Wherever their journey eventually takes them, the page showcasing the infographic should include a call to action, as well as other relevant and engaging content. And then what?
If they browse your website, what will they find? Is there something more for them to engage with, to get to know you, and to confirm if you're the expert they are looking for? If they respond to your call to action, how will you build even further on the content they have consumed thus far? And then what?
As individuals near the end of their journey, maybe you want to offer a complimentary retirement consultation specifically designed for executives that will reaffirm your expertise and value. Remember, the journey will be defined by the prospects. But it's to your advantage to think through their experience with every option you provide.
Example: The Ideal Client
For this example, let's say you place an ad in an upscale community magazine with the goal of attracting those who fit your ideal client profile. This ad has an attention-grabbing headline about the benefits of working with an independent advisor. It also has a compelling call to action. And then what?
After seeing your ad, many prospective clients will likely choose to go to your website to research you before actually reaching out. You've made this easy for them by providing a URL in your ad. And then what?
The ad's URL might lead them to your homepage or to a specific page on your website that continues the conversation you started in the ad. Wherever it goes, the destination should reaffirm both your value proposition and your ad's message. Keep in mind that some prospects may ignore your URL altogether and simply google your name to see what comes up. (Is your website optimized so that your firm's homepage will appear at the top of their search results?) And then what?
Once they arrive at your homepage or another page on your site, what do you want them to do? Perhaps you could have a short, engaging video about how being independent enables you to act in their best interest, teaching them something along the way that they didn't know. And then what?
You know the demographics of those who read the magazine where you placed your ad. What are their top financial concerns? How can you demonstrate you are an expert in what matters most to them? That's what's next! Whether it's a page on your website, a blog post, an infographic, a webinar, or a phone call, let prospective clients get to know you on their terms and give them the opportunity to further engage with you every step of the way.
And Then What?
I hope you will find that mapping out the prospect journey is a helpful exercise. It will enable you to see the connections between your various marketing efforts, uncovering both leaks and opportunities. Plus, by continuously asking "And then what?" you can take steps to help your marketing stand out from the rest and deliver the edge you need to turn prospects into clients.
What does your typical prospect's journey look like? How do you use your marketing to help turn prospects into clients? Please share your thoughts with us below!