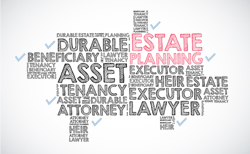 A plan to distribute wealth, just like a plan to accumulate it, must be tailored around your client's unique situation, goals, and needs. As the trusted advisor, you're well positioned to oversee all elements of your client's plan to help ensure the distribution of assets according to his or her wishes—and at the lowest possible cost.
What follows is a helpful estate planning checklist. Use it to guide your conversations with clients and to help ensure that you've covered all the details in their plans.
An Advisor's Guide to Estate Planning
1) How and when does your client want to distribute his or her wealth to heirs and the community? Be sure that you review the following elements to ensure that your client's plan matches his or her wishes:

Gifts during your client's life

Bequests at death only

A combination of current gifting and bequests
2) Have the necessary documents been reviewed by your client's attorney? Do all documents that have tax implications meet current goals and tax laws? Carefully discuss your client's goals and how his or her documents should be changed to achieve them. Be sure to review the following:

Advanced directives (financial and health care powers)

Will

Trusts

Buy-sell agreements or other business succession plans

Guardian designations

Fiduciary appointments in these documents
3) Who will manage your client's assets and health care should he or she become disabled? Discuss plans for possible long-term care by reviewing the following documents:

Durable power of attorney

Health care proxy, medical directive, and living will

Revocable trust
4) Has your client provided a safety net for family and friends? Help ensure that your client's wealth will be distributed to loved ones as he or she sees fit. Be sure to carefully examine the following:

Current and projected cash flow analysis

Survivor and dependent needs analysis

Retirement of debt at death

Current life insurance coverage

The effects of a gifting program on income
5) Does the ownership of your client's property reflect his or her estate plan? To ensure that the plan matches, discuss the following questions:

Has your client ever lived in a community property state?

Has jointly owned property been reviewed?

Which assets will be available for estate tax planning, if necessary?

Is a revocable trust funded?
6) Do the beneficiary designations of your client's property and retirement plans reflect his or her estate plan? To ensure that your client's wishes will be carried out, review the following:

Retirement accounts

Life insurance and annuities

Paid on death, transfer on death, and Totten trust accounts
7) Will your client's estate be distributed at the lowest possible cost? To prevent unnecessary income taxes for heirs, be sure to evaluate the following:

Federal estate taxes

State estate and inheritance taxes

Generation-skipping transfer tax (GSTT)
8) Will your client's life insurance be received estate tax-free? Help ensure this by considering the following options and actions:

Transference of ownership to an existing irrevocable life insurance trust

Addition of term insurance to cover possible estate taxes during the three-year period

Insurability

Select a trustee and execute a life insurance trust

Make premium gifts to the trust

Have the trustee pay life insurance premiums
9) If your client has a taxable estate, has the client made the best use of his or her federal or state estate tax exemptions? Consider:

Making an outright gift or bequest outside of a bypass trust

Including tax planning provisions in his or her revocable trust

Structuring ownership of assets to maximize the estate tax planning structure in the plan
10) Is your client taking advantage of the annual gift tax exclusion and other tax exceptions? Evaluate the following aspects of his or her estate plan:

Annual gift tax exclusion

Qualified transfers for educational and medical expenses

Lifetime gift tax exclusion

Valuation discounts for gifts over $1 million

GSTT election to dynasty trust

Gifts to charities
11) Does your client have asset protection concerns? Evaluate these concerns by reviewing the following:

Umbrella liability policy

Maximizing qualified plans

Statutory protection of insurance, annuities, and homestead laws

Business entity

Tenancy in entirety

Asset protection trusts
12) Is your client the trustee or beneficiary of an existing trust? If this is the case, be sure to review and consider the following:

Trustee authority provisions

Investment policy statement

Insurance due diligence
13) Does your client have any issues that require special attention? Discuss whether any of the following exists:

Special needs children

Children of a prior marriage

Dependent parents

Unmarried couple

Pets

Potential inheritance
14) Do your client's heirs understand his or her estate plan? To ensure that all parties full grasp the implications of the plan, consider:

Holding a family meeting to discuss the plan

Drafting letters of instructions

Determining a safe location for documents and records
What do you think? Have we left anything off this estate planning checklist? What other tools do you use when discussing legacy plans with clients? Share your thoughts and tips for below.