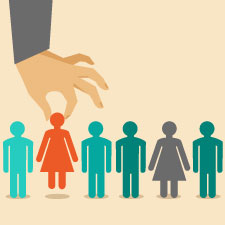 As your firm grows and evolves, you'll surely face different hurdles. Sometimes, the challenge is centered on your bandwidth or your ability to deliver on your service model. At other times, it's a desire to share expenses and have a colleague with whom you can collaborate. In these situations, hiring an advisor may seem like the most logical solution. You may find, however, that it gives rise to a number of questions.
To help answer these questions, I've developed this practical guide to hiring an advisor. It will help you determine what kind of advisor your practice needs and how to go about finding the right person to help grow your business.
What Kind of Advisor Do You Need?
To determine the type of advisor you need, think about the tasks for which he or she will be responsible.
A support advisor provides planning support and money management, and so he or she might focus on portfolio analysis, research, trading, allocations, and rebalancing.
A service advisor manages existing client relationships and is paid a salary because he or she is not expected to produce.
A lead or producing advisor builds and maintains a book of business by creating marketing campaigns, prospecting, converting prospects to clients, and managing client relationships.
What are the costs? Whatever type of advisor you need, cost will be a major factor. If you're focused on growth, for example, you might want a service advisor to whom C and D clients can be transitioned. But keep in mind that the role of service advisor is usually a salaried position. Therefore, in addition to salary and other fixed costs, you must include costs such as benefits, payroll taxes, FICA, and unemployment insurance. Further, these advisors have no or minimal commissions, so expenses like errors and omissions insurance, licensing fees, and research packages may fall on you to pay.
At this point, you may be wondering if the cost of hiring a new advisor is worth it for your practice. It's time to take a step back and assess your book of business.
Who Are Your Clients?
By determining who your B, C, and D clients are, you can evaluate whether they provide enough revenue to cover the salary and other expenses associated with a new hire. One benefit of this process is differentiating households that are your "ideal" relationships from those that do not require the full scope of your expertise. Furthermore, you'll gain valuable insight into the aspect of your book that brings you the highest revenue, the highest level of satisfaction, and so forth.
For example, perhaps your C and D clients don't have a lot of assets now, but they have the potential to grow in the future. Or maybe they've already reached their maximum potential, so additional growth is limited. Whatever the case may be, a thorough understanding of your book—and the service each client level requires—can help you determine which type of advisor, if any, is the right one to add to your firm.
More Questions You Should Be Asking
Once you've analyzed your client segments and decided that bringing on another advisor is the right decision for your business, there are certain questions you should be asking.
How will this relationship be defined? When thinking about what this new relationship will look like, it's vital that expectations are clearly articulated.
Will the advisor share space, ideas, and your DBA name?
Will you engage in joint marketing initiatives?
Will you share business, or will each of you work your own books of business?
Will you share decision-making authority?
Will you share staff and other resources?
Clearly defining the relationship will ensure that your expectations are aligned and help prevent confusion down the line.
Will adding another advisor help achieve your firm goals? It's important to articulate how adding an advisor fits into your long-term vision, strategies, and goals. The best place to start is with your business plan. If you haven't gone through the business planning process, this is an ideal time to draft one. It's an opportunity to evaluate how another advisor could contribute to your firm's growth and envision the kind of organizational structure that would allow you to do more of what you do best. During the business planning process, consider the following:
What are your key business goals and objectives for the next one, three, and five years?
What critical tasks are required to meet those goals?
What successes must you have in the short term to achieve your long-term goals?
Do you spend the majority of your time meeting with clients and prospects?
What are the requirements, skills, and essential functions of the position you are seeking to fill?
How will adding an advisor affect the firm's culture?
If the new advisor has his or her own book, will he or she have time to commit to your firm's growth strategies?
With so many questions to ask, how do you go about finding the answers?
The 5-Step Hiring Plan
This five-step hiring plan is designed to help you and your new advisor turn assumptions into concrete expectations. It can also be used to facilitate a discussion regarding how many clients you expect this advisor to bring to your firm and to clarify expenses allocated to each advisor.
Step 1: Articulate your plan. Here, assess the type of advisor, his or her level of experience, how he or she will fit in with your strategic goals, and so forth. In this step, think about the cost of bringing an advisor on board and measure expenses (e.g., overhead, training time) against efficiencies, such as additional clients the advisor would bring to the firm and the time you would gain by transferring your C and D clients.
Step 2: Choose the right candidate. Bringing the right person into your firm is critical to mitigating turnover and disruption in your business. Focus on crafting an accurate job description, and include behavioral questions in the interview process. Also, industry-specific job boards (e.g., Financial Planning Association) might be useful resources for you to consult.
Step 3: Get the green light from the Recruiting team at your broker/dealer. Once you've made the decision to hire an advisor, you may want to contact the Recruiting team at your broker/dealer to determine, for example, whether you need to become an Office of Supervisory Jurisdiction (OSJ), as a FINRA Series 24 securities registration is required for OSJs. Also, this team will likely want to meet the candidate to become familiar with his or her business mix, business history, and compliance history.
Step 4: Transition the new advisor. In this step, think about everything you may need to get your new advisor on board—for example, ordering a computer, setting up the office space, and updating business cards. You should also focus on completing any relevant client paperwork and, for the experienced advisor, helping prepare for his or her resignation from the advisor's current firm.
Step 5: Set up the new advisor for success. Here, review critical points with your new advisor—your firm's values and culture; your expectations of the new advisor; the firm's one-, three-, and five-year goals; your service model; and your ideal client profile. Determine a schedule for conducting regular meetings and setting specific, measurable goals, so he or she knows what success looks like and how it will be measured.
The Final Decision
The decision to hire an advisor is complicated, but it's an option you should consider to meet the challenges of growing your businesses. By using this practical guide, I hope that you can eliminate the guesswork and make an informed decision for your practice.
Have you successfully hired an advisor for your practice? What were the biggest challenges in this process? Please share your thoughts with us below.