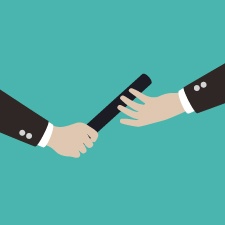 Picture this: You own a classic 15-year-old Audi Cabriolet convertible. Through upgrades and solid maintenance, it seems to improve with age—until it doesn't. Eventually, the electronics go awry, the door handle comes off, the top won't go down, and the transmission fails. Resale value? Close to zero. If you were your own client, you would have told yourself to sell a few years ago in order to maximize value—before the inevitable march of declension.
There's a similar scenario going on when it comes to succession planning for financial advisors. Many of you likely have "classic" practices, built on hard work, service, loyal clients, smart hires, and consistently good business decisions. But do you have a plan for exiting the business and maximizing its value before it begins to decline? If the answer is "no," it's the perfect time to take a new look at succession planning. Here, my colleague, Liam O'Shea, and I will help you to do just that, starting with the state of your business.
What's the State of Your Business?
Commonwealth's Practice Management team contacts our advisors annually to check on the state of their business. During these calls, we've heard many say they want to slow down or retire. Others would like to continue as advisors but get out of the day-to-day business operations.
In fact, about 70,000 advisors (controlling $2 trillion in assets) will exit the business in the next decade. But only one-third have an exit plan! Further, advisors who are two to four years away from their desired exit are as ill prepared as those with longer time horizons. As a result, many could wind up selling their practices for less than their peak value.
Of course, what "value" means can vary and depends on your ultimate goal. Do you want to ensure continued client service, maximize financial value, keep support staff on board, or all of the above? Some of you may not know your top objectives. Demographic trends, however, suggest that it's important for the older advisor to figure this out sooner rather than later.
What's the Value of Your Business?
Industry valuation averages have remained fairly stable, and the multiples that fee-based practices fetch have tended to fall in the range of 2x–2.5x gross earnings. Brokerage and direct business is considered less "sticky" by the marketplace. Plus, with the uncertainties posed by delay and potential vacation of the DOL fiduciary rule, we wonder how realistic the 1.5x–1.75x multiple is on nonadvisory recurring revenue.
Recent research emphasizes the risk of taking a strict multiple approach to valuation, with one study suggesting that one out of three advisors report less than 50-percent retention in the transferred book. Based on our own observations and industry data, we think it's wise to approach each deal as unique and not to rely on the multiples of the industry as much more than a starting point. More advisors, especially those with larger practices, look to an independent valuation as a place to begin. Then they consider commonsense factors—such as projected revenue and expense and break-even analysis—to help them make good decisions.
What Do Deals Look Like Today?
With the availability of easy financing and favorable terms, the classic buying formula (one-third of the purchase price funded by financing) no longer applies, and bigger down payments are becoming prevalent. Advisors often borrow with a third-party institution or their own broker/dealers to finance such deals.
At one time, advisory practices were simply transferred after agreeing on a number, shaking hands on it, and then writing a check. This is no longer the case! Instead, it's a lengthy, multilayered process involving three equally important elements: price, terms, and structure.
The past: Traditional earn-out. The traditional earn-out splits the risk of performance between buyer and seller. Here, a buying advisor offers the seller a percentage of revenue from the transferred book for a term of up to five years. At Commonwealth, a common scenario is 50 percent of gross revenue paid directly by Commonwealth over three to five years, with a down payment of 20 percent to 40 percent. The percentage amount and number of years paid targets a multiple.
For example, if an advisor sells a fee-based practice and wants to achieve a 2.5x multiple of revenue, the earn-out may be 50 percent paid over five years (50% × 5 years = 2.5 × multiple). Of course, actual performance of the transferred portfolio will likely be more or less than the targeted amount. Some advisors prefer this arrangement due to its simplicity and ease of payments. From a tax viewpoint, a buyer is eligible for an ordinary tax deduction.
The present: Asset-based sale. Selling advisors prefer structures with a tax treatment that favors them. In the asset-based sale, buyer and seller agree on the sale of specific business assets. The assets may be tangible (office equipment, technology, etc.) or intangible (goodwill). The purchase price must target specific assets, and tax consequences accrue to both parties. The seller gets long- or short-term capital gain treatment, while the buyer must amortize payments over 15 years. An earn-out is not possible in this scenario, so the buyer and seller typically use a promissory note based on a specific price. This price may decrease after a year if retention rates decrease below negotiated expectations.
The future: Share sale. Some advisors may prefer a team-based, scaled approach and thus look for business structures reflecting this approach. Typically, these firms issue equity shares to partners that are valued according to a formula. Purchasing into this structure is similar to buying stock for a client. For the seller, depending on the holding period, a sale will produce a short- or long-term capital gain. The buyer's cost basis will generally be what was paid for the stock and is not eligible for depreciation and amortization. We expect to see more share-based sales going forward.
Exit Sign Ahead?
Whether you will be buying or selling, we recommend that you hire an attorney to represent your interest and review pertinent documents, as well as a CPA to advise on any tax ramifications. But perhaps most important, sellers should begin succession planning at least five years ahead of their ultimate exit from the business. After all, you want to ensure that your "classic" practice value aligns with your priorities and expectations at the time of sale.
Do you have a succession plan in place? Which type of sale structure do you think would be the most beneficial? Please share your thoughts with us below!