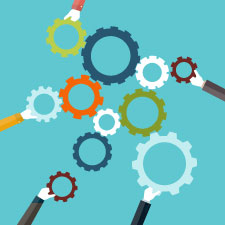 You know you should be forming strategic alliances—and that these relationships are supposed to help you grow your business. But if you're like many of your peers, you haven't yet figured out how to make these alliances worthwhile. How do you get a firm to agree to a partnership? More important, how can you ensure that the "right" referrals occur between firms?
To help answer these questions, I've created this short guide to successful strategic alliances for financial advisors, including a five-step action plan. By following this approach, you may soon find yourself in a better position for a successful relationship.
Lay the Groundwork
The first step of a successful alliance happens before you approach another professional; you need to lay the groundwork.
What's your niche? Potential alliances tend to look for someone who understands the needs, concerns, and values of a specific audience. If you can't present yourself as an expert in your niche, other professionals may be resistant to partner with you.
Who are the top attorneys, CPAs, and other professionals in your niche? These people are more likely to provide services appropriate for your clients than someone outside your niche. The types of referrals you receive from them are also more likely to be relevant to your business.
What goals do these professionals hold? Also, be prepared to explain how an alliance with you could help them achieve those goals.
How committed are you to an alliance? Think about how involved you expect to be with shared clients and how you will maintain the alliance.
Will a strategic alliance fit in your current team structure? Here, think about how other team members would be affected.
Once you've answered these questions, it's time to focus on the relationship.
Determine the Relationship Structure
Here at Commonwealth, we have something called the Commonwealth Alliance Program (CAP). CAP is a turnkey, structured approach that allows professionals in multiple disciplines (e.g., CPAs, attorneys, property and casualty agents) to work with our Investment Adviser Representatives in a coordinated manner to serve their clients' diverse needs. These alliances work in different ways, depending on what each professional wants from the relationship.
So, how do you think about your relationship goals?
Do you simply want another professional to join your team?
Would you like to set up a reciprocal referral relationship?
Are you hoping to enter into a referral fee-sharing arrangement?
Here, let's assume that you want to develop a fee-sharing relationship with another professional. The next step is to present your proposal.
Present Your Proposal
First, suppose you identify a local CPA firm. You decide to focus on the organization's primary rainmaker as the person you'd like to approach regarding an alliance.
Based on the groundwork you did earlier, you know that many CPAs are facing threats to their growth from tax-preparation software, discount tax-preparation firms, and fee compression. They may be having difficulty locating and hiring new CPAs for growth or succession planning purposes. They may also be losing clients to one-stop-shop financial services firms. What does this mean for you? You need to clearly demonstrate your value, since these factors may make your potential partner suspicious of your motives.
Be a consultant. Some CPAs view advisors as transaction-oriented, product salespeople. Many have concerns about loss of client control, ethics, legality, structure, liability, and licensing. So, be sure to clearly describe the consultative wealth management services you offer. This can be invaluable in showing how you envision the CPA's services fitting into your comprehensive approach. In turn, the CPA will gain an understanding of the beneficial services you can provide.
Show your value. You'll want to illustrate how an alliance can potentially increase the CPA's revenues over time. Let's say you had access to a CPA's clients and converted $10 million in new assets annually at 1-percent gross asset management fees. If the CPA received 20 percent of that amount, he or she would realize a new revenue stream of $100,000 in five years. Although you may give up some client revenue to the CPA, consider it a normal marketing expense for acquiring new clients.
Follow the 5-Step Action Plan
Once you and your future partner decide to move forward, it's time to take action.
Step 1: Have the CPA fulfill any licensing or registration requirements. Requirements vary from state to state, and the CPA may need to take an exam. If an exam is required, you might offer to tutor, help with paperwork, or pick up any initial fees.
Step 2: Set measurable expectations. You and the CPA should document your expectations in terms of measurable goals, including:
Target number of clients received (by each of you)
Target revenue goals resulting from the referral arrangement
Timeline for reviewing or adjusting targets
A new relationship can ideally produce results in six months. At a minimum, set an initial progress meeting within the first year, and address what to do if expectations aren't met. Will you terminate the arrangement, change your goals, or analyze other criteria?
Step 3: Determine an ongoing plan for communication. At the outset, develop a written plan for how to keep your practice front-of-mind with the CPA. Remember, what starts out as exciting can easily lose attention as other professional demands beckon. To prevent this from happening, consider sending your CPA a regular e-mail or offer a seminar for CPE credit.
Step 4: Create a joint action plan. Your CPA may be happy to provide referrals to you and vice versa, but you should both consider how you can market to each other's clients. Your CPA can set the stage for success by positively introducing your affiliation to clients. Here are a few strategies that have worked for our advisors:
The CPA sends a letter to clients, making them aware of your services and providing your contact information. The letter should include a call to action, inviting clients to contact you or the CPA.
The CPA commits to discussing you and how your services may be helpful to clients during regular meetings.
The CPA facilitates meetings with you at his office for clients who have expressed an interest in your services.
Next, determine how you will market yourself and make it part of your overall marketing plan. Keep your goals in mind, and consider how you'll measure the success of each element in terms of relationship objectives. Some suggested methods include:
Brochure. Create something specifically for your CPA's clients, referencing your partnership and your services.
Introductory letter. Send this after your CPA has officially announced your relationship to clients.
Introductory phone call. If your CPA indicates that clients have expressed an interest in a follow-up, make the first phone call to set the relationship in motion. (Here, be sure to follow "do not call" procedures each firm may have in place.)
Newsletter. Offer clients a subscription to your newsletter.
Website links. Link to each other's sites to promote the affiliation.
Annual co-meeting with clients. Show support by meeting with clients jointly.
Finally, explore ways to help each other identify potential shared clients. Fortunately, there are several "trigger points" for clients who may require the services of an additional professional, including those who are:
Selling a business
Exercising stock options
Considering early retirement
Transferring ownership of a company
Revising an estate plan
Receiving an inheritance
Step 5: Plan annually. Last but certainly not least, once you've created your initial plan, set a goal to review and update it annually. This step is key to making the most out of your professional partnerships.
Stay Patient
Creating successful strategic alliances takes time, patience, and endurance. But the financial rewards from even one successful alliance can help you find the cipher for growing your business in the years to come.
What steps have you taken to form strategic alliances? Which types of professionals are ideal for this kind of relationship? Please share your thoughts with us below.