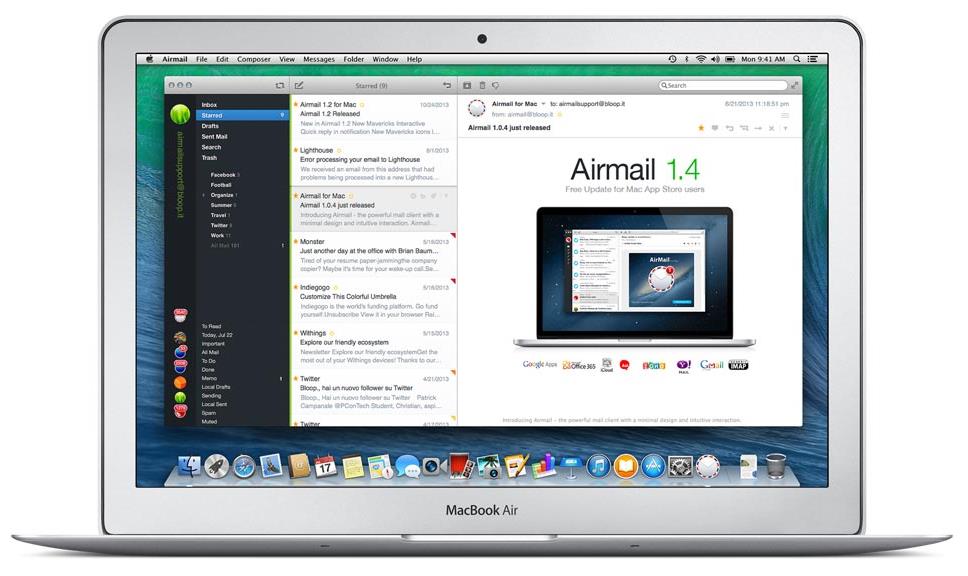 As a Mac user, I know that Mac Mail isn't the best. Even Apple admits that, telling users earlier this year that the only workaround was to "quit and reopen" it. That sounds like a very Microsoft-y solution: just reboot it!
Commonwealth uses MS Exchange to provide access to mail, contacts, and calendars across many devices. And, unfortunately for our Mac users, the Apple workaround won't work reliably.
Looking for a Better E-Mail Client for Mac
For the past few months, I've been trying to find a better e-mail client for Mac—one that works with MS Exchange and works reliably. Airmail is that client. It does one thing, and it does it well: e-mail. It allows you to do the things you would expect to do in an e-mail client and nothing more.
There is no direct calendar integration. You have to use whatever calendar you prefer on your Mac (could be the default Calendar app or Fantastical 2).
There is no task integration. You have to use whatever you use for tasks (e.g., Default Reminders app, Things, Omnifocus 2).
It just does e-mail. That's it. If you want a full-fledged everything client for Exchange, you're stuck with Outlook for Mac . . . which, from my experience, doesn't work that great.
Some Really Cool Features to Help You Manage Your Inbox
Still, Airmail has some really cool features that will help you manage your inbox, read your e-mail, create to-dos, and get back to work as quickly and efficiently as possible.
Quick Move: I recently started treating my inbox as a to-do list. With Airmail, you can set up your system to "Quick Move" to a Done folder or a to-do. It feels good to get your inbox down to zero . . . and quickly.
Search: Do you ever find yourself wondering where an e-mail went? For example, someone may ask you, "Remember when xxx e-mailed you about xxxx?" Airmail makes it easy to find messages and conversations based on any criteria. If you highlight an e-mail and press the bull's-eye, Airmail quick-filters only the conversations you've had with that sender and displays them lightning fast.
Mute: Are you on an e-mail string that keeps getting updated, but you mentally checked out of the string after the second reply? Airmail applies a quick rule that moves any e-mails and replies to that thread to a folder called "Muted." This skips your inbox and allows you to go back to the e-mail string later, helping to keep you focused on work.
MS Exchange: Perhaps I shouldn't mention this, but Airmail does MS Exchange really well. It doesn't get hung up. It doesn't keep searching for a connection. It brings in mail when mail arrives and sends mail when you click Send. This shouldn't be too much to ask from an e-mail client.
Airmail is clearly a better e-mail client for Mac, though it might not be the right choice for larger offices that rely heavily on tasks. Tasks may need to be reassigned and tracked. Outlook might be a better option for you.
Airmail is $1.99 in the App Store.
If you are a Mac user let us know what you use to get your Exchange email. If you use Airmail, let us know your thoughts in the comments.