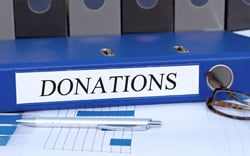 At one point or another, many of your clients may want to donate some of their wealth to philanthropic organizations. Their passion and excitement for a certain cause, however, may hinder them from doing their due diligence. As their advisor, you can help them make smart, informed decisions—and help make the giving process a joyful one from start to finish.
I've outlined six key steps to take before your clients give to charity to help ensure that they avoid certain charitable giving pitfalls—and that the donation benefits both the charitable cause, as well as your clients' financial goals.
1) Determine Your Client's Goals for Giving
It's a good idea to take the time to understand your client's perspective and intentions for charitable giving. Here are some questions that can help you begin the conversation:
What are your charitable values and objectives, and what do you want to accomplish with your giving?
How much do you wish to donate?
When do you wish to make the donation

—during your life or when you pass away

?
When and how do you want the charity to use your donation?
How engaged in the process do you want to be? Are you comfortable with more paperwork, tax forms, and consultations with your tax advisor or attorney? Or do you prefer to make a charitable contribution in the simplest way possible?
Do you seek to gain a tax advantage through charitable giving?
Once you understand your client's goals, you may find that certain giving techniques are more ideal than others.
2) Ask the Charity for Information
Be sure to request information from the charity about its mission and goals. Find out how your client's donation will be used and what percentage actually goes toward charitable purposes (versus operational costs), and request proof that the contribution is tax-deductible. If the organization uses paid solicitors, it is required to identify those solicitors and disclose the percentage of the donation that will be used for their compensation.
This research may uncover that the charity spends too much on operations or that certain tax issues make the donation less appealing, in which case, you and your client may decide to look for another organization or charity to support.
3) Leverage Your State's Resources
Most states require nonprofits that solicit charitable donations to register with the state attorney general. The attorney general's office is also responsible for investigating fraudulent practices of charitable organizations and other entities posing as legitimate charitable organizations. Visit the National Association of Attorneys General website for a list of the state attorneys general and their contact information.
Charities that have established themselves in nonprofit corporate form are also required to maintain a registration file with the state secretary of state. The file should include the charity's official name and contact information, the names of executive officers and other management personnel, and the organization's purpose.
4) Double-Check the Charity's Name
When naming a charity as a beneficiary, always double-check the organization's name to eliminate any ambiguity. Using the wrong name or a nickname could cause confusion regarding the proper recipient. Unfortunately, it's not uncommon for illegitimate organizations to use names that sound similar to those of legitimate charities to take advantage of unsuspecting donors. GuideStar is a helpful resource for vetting potential charitable beneficiaries.
5) Verify the Organization's Status
Ask to see the charity's IRS letter recognizing its tax-exempt status and eligibility to receive tax-deductible donations, or investigate this information on the IRS's website. Be sure to obtain the charity's tax ID for future reference.
6) Keep Complete Records
For donations less than $250, a canceled check or credit card statement is generally sufficient for IRS purposes. For larger donations, obtain a properly worded receipt from the charity documenting the donation. Also, keep in mind that the tax deduction is reduced by the fair market value of any gift, meal, or other incentive received from the charity.
What other steps do you follow when helping clients give to charity? Please share your advice to other financial advisors by commenting below.
Commonwealth Financial Network® does not provide legal or tax advice. You should consult a legal or tax professional regarding your individual situation.