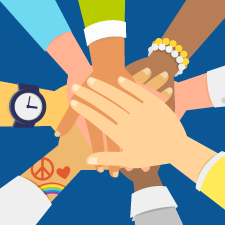 While changes in the financial services industry are occurring at breakneck speed, so too are changes in human resources best practices as we face new regulations, increasing human capital needs, and other outside pressures. Firms of all sizes that have a strong HR strategy at their center are poised to hold onto talented employees for the long term. But that strategy needs to evolve with the times and the firm's growth.
To elevate your HR strategy amidst this ongoing sea change, focus on the five tips below.
1) Incorporate Continuous Feedback
Many of us are familiar with the annual performance review—but few of us view it in a positive light. It's become an uncomfortable experience both for the managers who take one meeting out of the year to provide ideas on how employees can improve and for the employees who are taken aback by what they hear. These reviews rarely end up accomplishing what they set out to do: motivate employees.
For that reason, the tradition is shifting at some firms to incorporate continuous feedback. While we have millennials to thank for requesting more feedback, the fact is employees across all generations tend to desire more frequent input and evaluations on their job performance. This can be done through weekly, biweekly, or monthly one-on-one meetings with each employee. To formalize the process and keep the discussion on track, set up an agenda ahead of time with input from both the advisor and the employee.
When accompanied by regular, ongoing feedback, the annual review turns into an opportunity to look forward and explore what the employee would like to learn or accomplish. Less time needs to be spent looking back at the previous year's performance. To make the process more participatory and efficient, have your employees complete a self-appraisal prior to the meeting. You can then assess where they believe their strengths are and what they would like to improve. If it turns out you're not on the same page, you have reason to engage in a meaningful discussion.
2) Rethink Goals and Incentives
Incentives and bonuses have evolved greatly. Years ago, incentive plans were subjective. A manager would choose an arbitrary number and award a bonus when the time came. Today's structured incentive plans have made the process more objective. By using SMART (specific, measurable, achievable, realistic, and time-bound) goals, the employee and manager together develop individual goals that support overall firm objectives and that must be attained to receive the incentive. With this method, employees understand what they are expected to achieve and how success will be measured. It eliminates surprises and gives the employee more control over the outcome.
3) Evaluate Your Organizational Structure
As firms grow, their organizational structure evolves as well. In many firms, the CEOs do it all. They are the rainmaker, the relationship manager, the chief investment officer, the chief marketing officer, and so on. But to create a scalable practice, some firms are setting up shared responsibilities for other partners to take on some of these roles. There will always be a CEO, of course, but once producing advisors are named partner, they assume additional responsibilities to help run the firm. Often, these added responsibilities reflect the advisors' strengths and may also include giving them direct reports who support their new area of responsibility. For example, partners who take on the responsibilities of a chief operating officer might be in charge of operational oversight and have client service specialists reporting to them.
More specifically, some firms may find a need to add any of these new positions that are emerging in the industry:
Compliance manager: As regulations increase, many larger firms develop a need for one position that's dedicated to compliance so they can ensure that business is conducted in a compliant fashion.
Behavioral finance specialist: As relationships take on renewed significance, it's important to understand the behaviors that drive investors' financial decisions so that advisors can deepen and extend these relationships. One person dedicated to this work can bring value by helping advisors assess these behaviors and communicate with clients in a more effective manner.
Director of business operations: This strategic position oversees workflow and support staff and works with the leadership team to ensure that the infrastructure is in place to support future growth and other firm-wide goals.
4) Provide a Clear Path for Career Growth
Even when the firm is organized properly and employees know what they're doing well and how they need to improve, they may still look for the exit sign if their future at your firm is unclear. Professional growth appears limited unless the firm sets out career paths ahead of time. Smaller firms that don't have the same hierarchical structure of larger firms face this challenge in particular. They could ease the issue by setting out the steps involved in various areas. Positions in client services and marketing, for example, could have three tiers—from entry level to mid and high level—with employees gaining progressive responsibilities, autonomy, impact to the firm, and education and experience requirements at every level. That way, staff will know what they need to achieve to get to the next level.
For some positions, growth may occur in different directions. For example, a paraplanner can progress to an analyst and then a senior analyst. Or, he or she may focus on transitioning to an advisor role by working toward becoming senior paraplanner, then an associate advisor, and finally a service advisor. You can customize these career paths so that they fit your firm model and expand the career steps as needed.
5) Develop an Employee Handbook That Checks All the Boxes
While many things evolve in HR, the one standard is the need for an employee handbook, something that may be overlooked when a small firm is growing quickly. Your handbook should describe your firm policies, such as compensation and reviews, time off, benefits, and any other guidelines you want employees to abide by. Your handbook, in fact, can be considered a contract, so it's important that you know how to avoid pitfalls that can require legal intervention.
Learning to Expect and Embrace Change
The only constant is change. So as your firm grows, you must continue to elevate your HR strategy to ensure that your employees stay engaged and fulfilled. To help our advisors keep up with all things HR, Commonwealth introduced a focused, one-day workshop designed to explore new ways advisors can bring their HR strategy to the next level. The workshop provides an in-depth look at each of the tips included above, as well as insight into how advisors can successfully implement these changes at their firm. Focusing your strategy around these themes should help you stay current with human resources best practices and keep your employees and your practice thriving.
Do you subscribe to these human resources best practices? What's your plan to elevate your HR strategy as your firm grows? Please share your thoughts with us below!