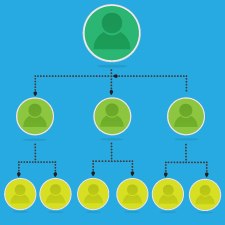 The process of creating an organizational structure that supports your firm's unique strategic goals is both an art and a science. No one structure works for every firm. In fact, you will need to update and improve your advisory firm's organizational design frequently as your business changes and grows. Doing so can increase productivity, drive desired behaviors, and enable effective, efficient performance.
The prospect of changing the organizational structure can be daunting for many firm leaders, but I find the following five steps are a great place to begin. By taking the time to evaluate your organizational design and breaking the process down into more manageable pieces, you're more likely to achieve the right structure for your firm.
1) Think About Efficiency and Effectiveness
To improve your advisory firm's organizational design, you must first make the distinction between efficiency and effectiveness. Efficiency addresses the time and cost associated with processing tasks. Effectiveness is the degree to which objectives are achieved and the extent to which targeted problems are solved.
In simple terms, efficiency means doing the thing the right way, and effectiveness means doing the right thing. When we hire the right people for the right jobs, they are capable of operational efficiency, completing tasks in the exact manner in which they are instructed. When employees are effective, they have a broader understanding of how the tasks impact the business, so they are better able to coordinate workflows and responsibilities. When evaluating and changing your business's structure, think about how to improve both efficiency and effectiveness at every level.
2) Begin an Organizational Chart from the Outside In
When creating an organizational chart, many business owners start by putting their own positions at the top. But the business isn't about you—it's about your clients, so you should start with them.
How do clients interact with your firm? What roles need to be in place to make those interactions effective? When you look at the business from this perspective, you'll often find that it's a receptionist, marketing specialist, or client service manager who sets the stage for the client experience—and that's where your chart should begin.
3) Support the Front Line
Add your client-facing staff—the advisors and paraplanners—to the chart. Next, add the roles that support this staff. For example, administrative support or other specialists, like compliance and investment analysts. Consider how these roles will collaborate and what these employees need to help them do their jobs well.
Below is a sample organizational chart for a financial planning business that shows how a firm's design can support a client-focused strategy.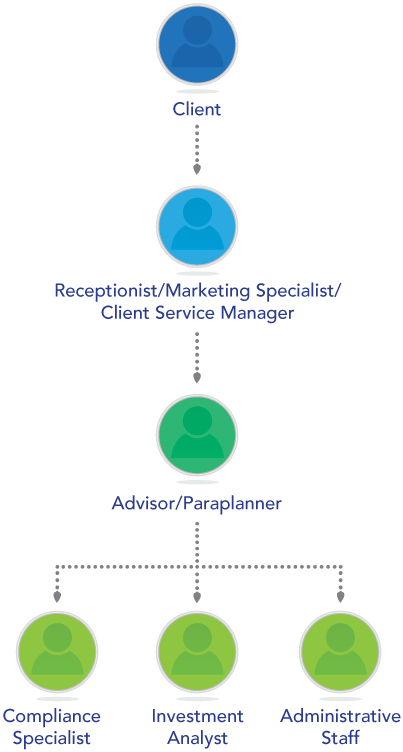 4) Define Roles Strategically
The next steps are to draft job descriptions, processes, and goals that reflect this client focus.
In Good to Great, Jim Collins tells us to "Get the right people on the bus, the wrong people off the bus, and the right people in the right seats." It's a powerful statement that points to the connection between organizational structure and having the right person doing the right job.
Once you have your people in their seats, so to speak, be sure to define the roles carefully. This helps you determine all the skills required to do the job and empowers employees to succeed and develop expertise over time. For in-depth guidance on how to articulate what you expect from employees—and what they can expect from you—be sure to download a copy of Aligning Your "Gives" with Your "Gets": Why Financial Advisors Should Create an Employee Value Proposition.
5) Delegate Carefully
Smart delegation enables employees to grow, develop new skills, and increase your firm's efficiency. Some advisors make employees the owners of their business units, giving them the authority to evaluate, amend, and revise activities in their areas. Sharing authority like this benefits both parties by taking some of the burden off the advisor and increasing job satisfaction and pride for the employees. It can also provide employees with the incentive to be more efficient and effective to position themselves for greater responsibility in the future.
Bonus: A Tip for Small Firms
You may be thinking that this structural framework is just for larger firms. After all, smaller organizations are less likely to have rigid job definitions, since one employee may have a job that would be covered by two or three employees in a larger organization. Further, employees in small companies are often expected to be more flexible and adaptable to frequently changing situations.
But this doesn't mean that organizational design has no place in a small firm. In fact, a focus on structure is just as vital for small firms as it is for large ones to boost efficiency and effectiveness, as well as to plan for the future. For smaller firms, I suggest paying special attention to the multiple roles that all employees have. This can serve as a valuable reminder of the scope of your employees' responsibilities and suggest how to tailor their professional development so that they can continue to grow and thrive. Consider, too, the role you would want to hire a new employee for—if resources allow—to gain greater efficiency and effectiveness.
For small and large firms alike, creating a system for defining roles, documenting responsibilities, and designing an organizational structure around clients makes it easier to scale your firm as it grows. Once you get everyone on the bus, sitting in the right seat, and moving in the same direction, you'll be on your way to the destination that you envision.
Have you created an organizational chart for your advisory business? Do you have any other tips for fellow advisors who are tackling this project right now?