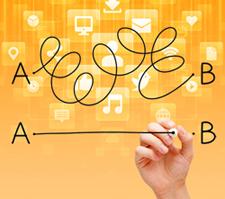 Digital marketing works. Many financial advisors see powerful results that grow their network and strengthen relationships with clients and prospects. Business social media efforts, however, are much different from the time you spend on your personal profiles—you have to work strategically and efficiently.
Let's face it: when we're busy at work, social media tasks—such as composing tweets and Facebook posts—tend to fall through the cracks. Luckily, there are several shortcuts that help financial advisors save time and even make social media marketing less daunting.
These five time-savers will help you publish content consistently, even during the busiest times:
1) Create an Editorial Calendar
Create a calendar to ensure that your business social media content is developed on time—and published consistently. Make note of the topic, when it needs to be approved, and where and when it'll be published. This simple organizational tool will help promote continuity across the different platforms—as well as keep associates, guest contributors, interns, and others up to speed.
2) Leverage Social Media Aggregation Tools
There are several different aggregator platforms—such as Tweet Deck or HootSuite—which can help you organize and schedule posts across all social media platforms. Think of all the time you'll save when you have three weeks' worth of posts all queued up and scheduled to be published.
3) Use Mobile Technology
Many of us read interesting articles on our phones—or think of ideas away from the office. Take advantage of mobile technology by submitting posts and links while they're at your fingertips, even while waiting at the dry cleaners.
4) Have Pre-Written Posts and Content at the Ready
No matter how well you and your team organize your social media efforts, it's always a good idea to have a few posts pre-written for those times when it's really busy. This way, when you just don't have the time to meet your editorial calendar's deadline, you can still offer your followers interesting content.
5) Delegate or Hire an Intern
Collaborate with your entire team so that your social media content remains fresh—and never becomes burdensome to any one person. Just be sure that all content adheres to the same compliance rules and conveys your brand's voice consistently. You may also consider delegating specific tasks to others—such as collecting interesting articles and quotes, or writing 15 posts to be at the ready when you're too busy.
As a busy financial advisor, you can't spend all your time on your business social media marketing. The good news is that you don't have to! Put these organizational and time saving strategies in place and enjoy the benefits of more streamlined, efficient social media marketing.
Do you use any of these shortcuts? Do you use any other time-saving strategies?