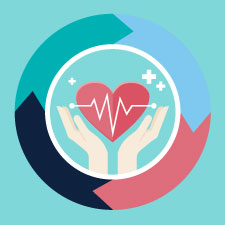 Those of you familiar with insurance underwriting know that it's a complicated process at best. Although it has many aspects that cannot be changed, there are numerous resources available to make applying for insurance more efficient and as stress-free as possible for you and your clients.
So, what are those resources, and how can you use them in your practice? To provide you with some answers to these insurance questions, here are a few tips for a more efficient insurance underwriting process.
1) Choose the Right Insurance Carrier
After identifying your client's need for insurance and before submitting an application, decide which insurance carrier and price to quote. This can help set realistic expectations and get the case to the appropriate carrier the first time around. It can also serve as a big step in expediting policy placement and compensation. Why?
The price of insurance is determined by the rate class that the carrier offers the client; the rate class offered will be based on the carrier's perception of the likelihood that they will need to pay the death benefit. Each carrier has its own set of classes, but each also has an average risk class, generally called standard. The cost of insurance for those applicants considered less risky than the average person will be lower than the standard price, and vice versa. For example:
If your client applies for insurance and the carrier assesses her as a high risk, she may be offered insurance for a higher cost than she anticipated.
If your client isn't offered the premium she expected, she may want to shop the case to other carriers to obtain a better offer.
Completing a second application and waiting for a second carrier to review a full file can add weeks to turnaround time. Applying to the right carrier at the outset, on the other hand, can be a real time-saver.
2) Narrow the Field with Prequalifying Tools
Three factors that weigh heavily in determining your client's risk and, therefore, his or her premium rate are:
Build (i.e., an individual's weight/height ratio)
Family history
Tobacco use
It's helpful to review these factors with all clients. For example, a young client may seem to be in perfect health. You might present this client with a quote showing a carrier's best class, but if he had a parent who was diagnosed with cancer prior to age 60 (or if he occasionally enjoys a cigar), many carriers won't offer him their best rate. In this case, you would have to go back to the client and explain why his insurance is more expensive than expected. You can't discern these details through observation, but you do need to be aware of them before you put your client through the application process.
Collecting this information and reviewing underwriting guides for each carrier can be labor intensive. Two tools we use at Commonwealth are the XRAE® Underwriting Tool and the COMPULIFE® Health Analyzer. After inputting your client's information (e.g., build and family history), each tool will process the data—evaluating thousands of underwriting rules and comparing your client's medical conditions against the proprietary guidelines for a host of carriers—in just seconds. The tools then come up with the least expensive carriers based on the information you provided.
Of course, these and similar tools don't guarantee the type of offer, if any, that your client will receive from a carrier. But they are excellent resources when quoting and setting expectations.
3) Complete the Application Thoroughly
To ensure that the application is processed in the most efficient manner, be sure that you are licensed and appointed before submitting the application—and don't neglect to fully complete the application before submitting it.
Missing information and signatures can delay an application, as the underwriter cannot give a formal offer until all requirements have been met. With this in mind, your client should:
Supply all necessary information, such as full names, addresses, and phone numbers for doctors seen in the previous 10 years
Include the reason he or she saw the physician, as this will help the underwriter decide whether or not physician records will be needed
Promptly schedule his or her medical exam
Nonmedical portion of application (often referred to as Part B). Although filling out this portion of the application isn't always required, it can help expedite the process. Plus, working with your client to get answers to the questions posed here is a great way to open a candid conversation about his or her health.
Paramedical exam. You also want to ensure that your client prepares for his or her paramedical exam (e.g., getting enough sleep and scheduling the exam early in the day). You might also remind your client of the information he or she should have available at the time of the examination, such as photo ID, lists of medications and dosages, and his or her exercise habits.
A Commonwealth solution. Several years ago, Commonwealth's Insurance team identified the insurance underwriting and application process as a major pain point for our advisors. In response, we created our App Assistant program, providing affiliated offices with a completed application for life, long-term care, and individual disability income insurance that's ready for signatures. The efficiency gained by advisors who use App Assistant has proved to be a true differentiator: Freed from the burden of determining which underwriting requirements and forms are needed, gathering information, and following up with clients regarding medical appointments, advisors have more time to focus on cementing their client relationships and building their businesses.
4) Include a Cover Letter
Including a cover letter with an application is your opportunity to present the underwriter with pertinent information that may not be apparent from reading the application alone. It can:
Alert the underwriter about key issues affecting insurance purchases
Prevent the underwriter from being surprised by adverse findings that may surface as the process continues
Highlight some positive lifestyle variables about your client
For example, you might include that your client makes healthy lifestyle choices—eating right, exercising, or seeing a doctor regularly. Some carriers offer incentives and "credits," so the client can obtain more favorable rates.
This is also very important for business-related insurance. Presenting a clear and concise explanation of what the insurance need is—and how the benefit was determined—can be a big help in expediting the financial underwriting review.
Keep the Lines of Communication Open
Although the underwriting process can be challenging, simply talking to your clients about it can put them at ease. Using the tips provided here, including being thorough and complete, will help prevent potential delays—and help ensure a smooth process for you and your clients.
What other tips for a more efficient insurance underwriting process have you put to work in your practice? Do they include using specific prequalifying tools? Please share your thoughts with us below.