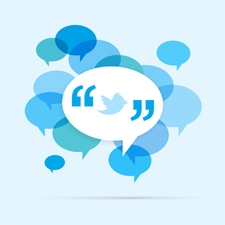 Change is hard. It's why resolutions to lose weight or exercise more often don't last long into the New Year. Old habits die hard, after all! To make lasting change requires determination and commitment, but focus on your desired behavior long enough and it, too, will become a habit—a good one that you're proud of.
In the spirit of the season, I scoured the Internet—and asked some of my fellow Commonwealth colleagues—for quotes to inspire positive change. Read on for some motivating thoughts, and feel free to share your favorites with your network.
"Our greatest weakness lies in giving up. The most certain way to succeed is always to try just one more time." — Thomas A. Edison

"All we have to decide is what to do with the time that is given us." — J.R.R. Tolkien

"Courage is the discovery that you may not win, and trying when you know you can lose." — Tom Krause

"If you change the way you look at things, the things you look at change." — Wayne Dyer

"Keep your eyes open, take risks, and whenever possible, don't think of things the way everyone else does." — Jon Daniels

"Be who you are and say what you feel because those who matter don't mind and those who mind don't matter." — Dr. Seuss

"Once in a while you get shown the light in the strangest of places if you look at right." — Robert Hunter

"No matter where you are in life . . . [y]ou always have a choice and the choice can be power." — Blaine Lee

"Success is not final, failure is not fatal: it is the courage to continue that counts." — Winston Churchill

"True nobility is being superior to your former self." — Ernest Hemingway

"The best teachers are those who show you where to look, but don't tell you what to see." — Alexandra Trenfor

"If you don't like something, change it. If you can't change it, change your attitude." — Maya Angelou

"No attainment is beyond his reach who equips himself with patience to achieve it." — Jean de La Bruyère

"A goal is not always meant to be reached, it often serves simply as something to aim at." — Bruce Lee

"Normality is a paved road; it's comfortable to walk, but no flowers grow on it." — Vincent Van Gogh

"A year from now, you may wish you had started today." — Karen Lamb

"It doesn't matter where you are, you are nowhere compared to where you can go." — Bob Proctor

"Nobody can go back and start a new beginning, but anyone can start today and make a new ending." — Maria Robinson

"Sometimes good things fall apart so better things can fall together." — Marilyn Monroe

"When I let go of what I am, I become what I might be." — Lao Tzu

"Your life does not get better by chance, it gets better by change." — Jim Rohn

"Courage doesn't always roar. Sometimes courage is the little voice at the end of the day that says I'll try again tomorrow." — Mary Anne Radmacher

"We must let go of the life we have planned, so as to accept the one that is waiting for us." — Joseph Campbell

"Noticing small changes early helps you adapt to the bigger changes that are to come." — Spencer Johnson

"We must use time creatively, and forever realize that the time is always ripe to do right." — Dr. Martin Luther King Jr.

"If we all did the things we are capable of, we would astound ourselves." — Thomas Edison

"After you've done a thing the same way for two years, look it over carefully. After five years, look at it with suspicion. And after ten years, throw it away and start all over." — Alfred Edward Perlman

"They always say time changes things, but you actually have to change them yourself." — Andy Warhol

"Coming back to where you started is not the same as never leaving." — Terry Prachett

"Incredible change happens in your life when you decide to take control of what you do have power over instead of craving control over what you don't." — Steve Maraboli

"I alone cannot change the world, but I can cast a stone across the waters to create many ripples." — Mother Teresa

Which quote is your favorite? Do you have any others that inspire positive change in you? Share with us in the comments below!