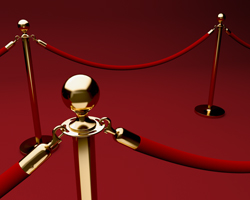 High-end restaurants, bars, hotels, spas, and casinos not only attract affluent customers in droves, but they also offer some useful marketing lessons for advisors.
You may be wondering, "Why VIP venues?" To begin, customers who frequent these businesses share many similarities with the high-net-worth individuals who are your ideal clients. These attributes include:
Affluence
A willingness to spend money to receive top quality
The desire to feel special
An expectation for the highest level of service
A network of like-minded individuals
It's important to keep in mind, however, that the allure of VIP venues isn't necessarily always about prestige. Millionaire-next-door types fit the same profile, even though they aren't actively searching for status symbols. Still, by analyzing these commonalities, we can arrive at three marketing strategies that might help you clone your A+ clients.
Lesson #1: Be Authentically Exclusive
VIP venues create the perception of exclusivity by restricting access to their establishment—making those who get in feel special. One of the best examples of this is Studio 54. The club kept such a tight watch on the door that they even turned celebrities away. Can you imagine the look on Cher's face when they wouldn't let her in the club?
As an advisor, you can be authentically exclusive by implementing some of the following strategies:
Don't accept everyone as a client. Limiting the number of clients you take on creates exclusivity. This does, however, require you to develop the skill to deliver the message with the right spin. For example, you might say, "We are a boutique firm that works with a select group of higher-net-worth individuals, so we aren't the best fit for everyone. This gives us the luxury to pay close attention to each client's needs, provide highly customized planning solutions, and offer an unsurpassed level of service."
Create a unique brand for your best clients. If you choose to segment your book and tier your services, be sure to set the highest levels apart in some way. Brand them so that the clients are constantly reminded of the high quality that they receive. You may want to, for example, create a separate logo, brochures, stationery, business cards, and pocket folders.
Promote "by referral only." If applicable, add "by referral only" to your business cards, website, and other marketing materials. This lets clients know that you are a referral-only establishment and that you don't need to seek clients. They come to you.
Lesson #2: Create an Unforgettable Experience
When you walk through the doors into a high-end restaurant, hotel, or spa, it's a remarkably different experience than the outside world. Everything—from the music, to the décor, to the employees' attire—is chosen deliberately to promote their brand, create a sense of wealth, and instill confidence in the excellence of the business's services.
To create an unforgettable ambiance and client experience at your advisory business, consider the following strategies:
Convert your client meeting space into a European-style café. Give your clients something to talk about by offering a full-service coffee bar, high-end equipment, comfortable sofas, themed décor, upscale reading materials, and jazzy music.
Host lavish appreciation events with fun themes. A great event can provide a truly memorable experience for your guests—and inspire them to bring friends who may, in turn, become your clients. For example, host a Roaring Twenties-themed event. Rent a historic mansion, play big-band music, and hire professional swing dancers to perform and teach your guests.
Lesson #3: Promote Top Quality
VIP venues pay attention to every last detail. Quality is of the highest standard—and always consistent. This is an important marketing lesson to learn how advisors can attract affluent clients successfully.
Fortunately, many clients who want top quality are willing to pay for it. To highlight the quality that you offer, be sure to implement the following tactics:
Emphasize quality with branding. Your firm's brand plays an important role in shaping perceptions about your firm's quality. Review your website, brochures, office décor, attire, signage, and other brand representations. Ensure that they send the right image, are made with quality materials, have a consistent look and feel, and have been designed and proofread by professionals.
Reconsider discounted pricing. Promoting free consultations or low fees might not appeal to high-net-worth prospects. With their wealth at stake, they're probably not looking for a bargain.
Gift thoughtfully. The right gift can impress any client. Look for high-quality and personal items, such as custom-printed stationery sets, monogrammed luggage tags, or monthly chocolate tastings from a high-quality vendor.
Does your business implement any of these marketing lessons? How did they help to attract more A+ clients? Share your thoughts by commenting below.