Google Analytics is a powerful free tool that lets you track where visitors are going on your website and gauge how effective your content is. Once you have the proper analytics code on your website for a few weeks, you can start analyzing traffic and measuring the site's success.
Of course, the criteria you use to measure success are up to you, the business owner. For instance, if your goal is to generate leads in the form of phone calls or e-mails from prospective clients, you could track how many people view your website's Contact Us page.
Here, we'll take a look at some of the reports Google Analytics offers and how you can use them to evaluate your site's success.
Reports
Some of the most useful features are the standard reports, which are located in the left column of your account page.
Real-Time. Watch in real time the number of visitors to your site and pages being viewed.
Audience. Get details about your visitors, including demographic information, new visitor and returning visitor behavior, and information about the browser or mobile device they're using to access your site.
Acquisition. Find out how visitors got to your website, whether through a search engine (Google, Bing), social media website (Facebook, Twitter, LinkedIn), or directly, by entering the website address into the address bar of the browser.
Behavior. See visitor traffic data on specific pages or sections of your website. This data won't tell you specifically who's looking at your site, but it can give you an idea of traffic volume on a particular page.
Data Analysis
Once you've had the Google Analytics code on your site for a few weeks, you can start retrieving and analyzing the data. The first question to ask yourself is "What information am I hoping to get out of the data?" Or, "What goal am I trying to achieve with this data?"
For example, if your goal is to convert site visits into phone calls and e-mails from prospects, the next step would be to analyze the data from your site's Contact Us page. The sample report below shows the analytics data for a Contact Us page.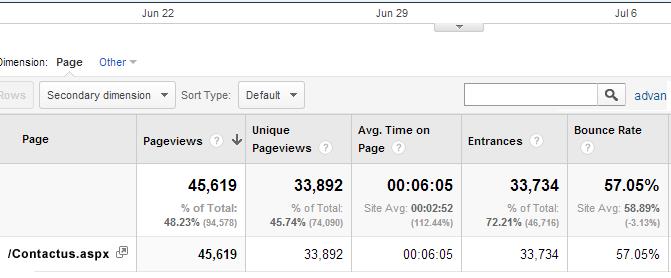 Let's take a closer look at some of the metrics it provides.
The Pageviews and Unique Pageviews categories show you the number of times the page has been viewed. The Unique Pageviews number is based on one visit by one person, whereas Pageviews reflects the same person seeing the page several times.
In this example, the site's Contact Us page has been viewed 45,619 times during a three-month period. That might seem like a lot, but if the business owner hasn't received an e-mail from a prospect via the unique e-mail address listed on that page, the performance of the Contact Us page is poor and the owner's goal isn't being met.
Avg. Time on Page tells you the average amount of time a user stays on the page. In this case, it's just over six minutes. You could make an educated guess that, if visitors are spending six minutes on the Contact Us page, they might be having trouble finding what they're looking for (e.g., the phone number).
Another metric to look at is the Bounce Rate, or the percentage of visitors who landed on the page and immediately left the website. A high bounce rate on the Contact Us page may be desirable, as it could mean the visitor left the page to call the business or submit a form.
On the other hand, a high bounce rate on a content page, where you'd expect the visitor to continue reading, isn't a good thing. For instance, if visitors leave your homepage right away, it may be because they didn't get a clear sense that they're part of your target audience or that they might be a good fit for your business.
What Are Your Goals?
Google Analytics can help any business fine-tune its website's performance. As long as there are goals in place, success can be measured. By setting goals and analyzing the data, the opportunities to enhance your site are endless.