LinkedIn went down shortly after 7:00 A.M this morning. Naturally, I assumed that something was wrong with my connection, so I tried again a few minutes later. After getting some 503 and 502 error messages—your guess is as good as mine—LinkedIn posted this: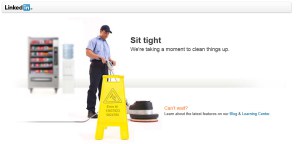 Now I'm sitting, blogging "live," waiting for LinkedIn to post something on Twitter to let me know what's going on. I want to continue with my routine of reading, researching, and posting interesting articles while drinking my morning coffee. Until now, I'd never realized how dependent or addicted I had become to this routine.
To calm my nerves, I look around my social media sites, hoping that LinkedIn uses social media to enhance its customer service relationships during this outage. I mean, honestly, this is a huge opportunity for LinkedIn. How will it handle this downtime, and how will it be communicated?
I contact Follow @LinkedIn on Twitter. Nothing. Next I posted a desperate message on Facebook and am directed to @LinkedInHelp on Twitter by a Facebook friend. Now LinkedIn has a new follower on two of its handles—a side benefit for it of the outage—maybe a lot of people will start following it today.
Next I notice a number of direct message replies from @LinkedInHelp to people who obviously tweeted it about the site being down. These messages say that LinkedIn is aware and working on it, but it doesn't have an estimated up time. That's fine. Good to know it's looking into things. But I'm still giving LinkedIn a "C–" for how it is handling the outage.
It's now been about almost two hours since the outage started, and the first tweet just came through my Twitter stream from LinkedIn:

In this day and age of immediate information, almost two hours for this type of message—one that doesn't feel very warm or caring—doesn't cut it. Come on, LinkedIn! Aren't you a social media site? Don't you understand how to use social media to your benefit?
And two hours later:

Ugh. Not great overall. Still not feeling the love.
I get it. Things can go wrong. But what I don't get is that something going wrong doesn't have to be bad. Why wouldn't a site like LinkedIn take advantage of the situation?
Here's the advice I'd give to LinkedIn (and any business owner!) the next time something goes wrong:
Look at the problem as an opportunity: In particular, use the time to enhance relationships you've built, showing that, even if something goes wrong, your number-one priority is customer care and service.
Communicate immediately and openly: Use a variety of social media outlets to demonstrate that you care and are keeping your customers informed.
Be proactive: Communicate publicly. For example, tweet updates to all of your followers, not just those who contacted you.
And, finally, show that you really do care by posting messages from the heart: How about something like, "We are so very sorry for the inconvenience. We know we let you down. We'll be better."
That's it. It boils down to using what you have to keep your customers informed. Sorry, LinkedIn. As much as I love you, I'm left with a big pile of bitter lemons today. No lemonade.