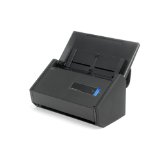 Technology consultants have been recommending the Fujitsu ScanSnap S1500 for years as the go-to for all your scanning needs. It is portable, fast, and easy to use—and it just works. It has been the perfect scanner for the small office looking to go paperless.
But things have changed. Fujitsu just released a new and improved model, the ScanSnap iX500. The first thing you'll notice about the new machine is that the design is different. Its squared-off edges and granite color give this model a more professional look. Its other features are subtle, but they make this a more powerful machine than its predecessor.
What's New?
The iX500:
Comes bundled with Adobe Acrobat X Standard (for Windows only), enabling the creation of editable, searchable PDFs
Can forward scanned data to a mobile device via Wi-Fi and a Fujitsu app
Is faster than its predecessor—able to print 25 pages per minute (vs. 20 ppm for the S1500)
Supports USB 3.0
Has new brake rollers that prevent multifeeding and paper jams
Scans directly to Evernote, Google Docs, Salesforce, SugarSync, and Dropbox (not compliant for business documents)
This is great news for offices in the market for a new scanner or for firms that have made it a goal to go paperless in 2013.
Look for it on amazon.com.