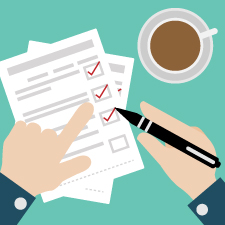 It's an annual ritual. Early in the year, FINRA and the SEC each puts out a list of regulatory exam priorities for the coming 12 months. I've compiled 10 priorities for 2015—gleaned from both organizations' lists and in no particular order—that I believe are important in addressing compliance for financial advisors.
By understanding the challenges posed by these exam priorities, you'll be in a better position to meet your clients' needs in 2015 and beyond.
1) Reverse Churning/Inactive Fee-Based Accounts
Examiners try to determine whether the type of account that an advisor recommends is in the best interest of the client. This review will:
Assess the level of activity in an account
Consider the fees and other charges paid by the client
Look for instances where clients are paying an ongoing asset management fee based on the value of an account that has had little or no corresponding trading activity
2) Excessive Trading
To identify advisors who might be engaged in excessive trading to the detriment of a client, examiners may use data analytics provided by clearing firms, as well as broker/dealers' trading systems and surveillance reports. Typically, this issue arises with commission-based accounts. But it also might be relevant for fee-based advisory accounts when the client is responsible for paying ticket charges.
3) Rollovers from Employer-Sponsored Plan Accounts
Here, significant focus is placed on the type and nature of communications between advisors and their clients. Retail communications (i.e., advertising) and correspondence, including e-mail and social media, will be reviewed to determine whether an advisor is presenting his or her recommendations to roll over assets in a complete, fair, and balanced manner. Specifically, examiners want to ensure that advisors who recommend rollovers have discussed or disclosed other potential options with their clients. This includes, for example, leaving money in a current plan or rolling it over into a new employer-sponsored plan, as well as potential pros and cons of each option.
4) Variable Annuities (VAs)
This topic appears regularly on the FINRA regulatory exam priorities list. FINRA pays particular attention to the sale and marketing of L-share and similarly structured annuities with shorter surrender periods and higher costs. For example, situations where an L-share was recommended to a client with a long-term investment time horizon and was purchased with a lifetime income rider might be scrutinized.
5) Nontraded Real Estate Investment Trusts (REITs)
Like VAs, this item regularly appears on exam priorities lists. In my experience, exam staff often expands on this priority to include all nontraded alternative investment products, including private placements.
Generally, examiners review certain transactions because of nontraded products' high fees, lack of liquidity, and imprecise valuations.
They'll closely examine how advisors recommend and describe these products to clients. Examiners tend to search for terms like "dividend," "yield," or "income" used to describe an alternative investment's distributions, which by prospectus may be funded by a return of capital or from borrowing.
Exam staff will take note of situations where a nontraded alternative investment is compared, apples to apples, with a conventional fixed income security or mutual fund.
If you're looking for more guidance on this subject, FINRA's Regulatory Notice 13-18 provides an in-depth review.
6) Alternative Mutual Funds (aka Liquid Alternatives)
The alternative mutual funds landscape has expanded significantly over the past few years. Some funds are defined as "alternative" due to their investment in illiquid securities or derivatives, while others are defined as such due to their unconstrained strategies.
FINRA's concern is that advisors or their clients may not understand how these funds will respond in various market conditions. Often, specific transactions will be reviewed to ascertain whether the client has the requisite sophistication and tolerance for risk to invest in an alternative mutual fund. Exam staff might also review advisor communications, ensuring all recommendations include a complete, fair, and balanced description of the fund.
7) Interest Rate-Sensitive Fixed Income Securities
FINRA recognizes that fixed income securities may play an important role in a portfolio. This year, examiners are looking for evidence that advisors have clearly communicated to their clients the impact of interest rate changes on the prices of interest rate-sensitive securities. This is particularly relevant in light of the possibility that the Fed will begin to raise short-term interest rates later this year. Exam staff may also focus on accounts with concentrated positions in interest rate-sensitive securities, including:
Long-duration fixed income securities
High-yield bonds
Mortgage-backed securities
Bond funds composed of interest rate-sensitive securities
8) Structured Products
Structured products have been an exam priority for several years. FINRA will continue to review specific structured product transactions and evaluate the product's complexity against each client's sophistication, objectives, and risk tolerance. Regulators may request a list of structured products sold to clients ages 65 and older that includes client suitability information. They might also look for clients who hold larger portions of their portfolios in structured products than is typically recommended.
9) Sales Charge Discounts and Waivers
FINRA has addressed this issue through exam and enforcement action over the past few years. Most products with sales charges also have conditions outlined in their offering documentation regarding how customers can reduce or waive the sales charges. Some products, such as mutual funds, unit investment trusts, and alternative investments, offer volume discounts, waivers for certain account types, or reductions in sales charges based on how purchases are funded. It's very important that advisors are familiar with these discounts and apply them appropriately with their clients.
10) Senior Investors
FINRA, the SEC, and many states continue to consider this a top priority. Concerns that exist for all investors are intensified for senior investors. These customers can rarely add fresh funds to their investment portfolios and typically lack time to make up for any losses. Also, reviewers will examine how advisors handle situations where clients have shown signs of diminished capacity, including reviewing investment recommendations for suitability and communications between advisors and senior investors.
Although these 10 topics may be the most commonly applied regulatory exam priorities for financial advisors, you may want to know more. For a thorough presentation, read FINRA 2015 Exam Priorities and SEC 2015 Exam Priorities. By remaining aware of these issues, you'll not only keep your practice out of the regulatory spotlight, but you'll also set your clients up for greater success in the future.
Have you reviewed FINRA's 2015 Exam Priorities? Are there other regulatory compliance issues you'd like to know more about? Please share your comments below.