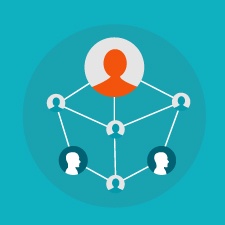 As we discussed in yesterday's post (Part 1), to think different when working with centers of influence (COIs), you have to go beyond CPAs and attorneys. Instead, you must expand your definition of COI to include anyone who knows you and what you do for a living and is in a position to send qualified prospects in your direction. Easier said than done? Not at all! Let's look at more real-world examples of atypical COI success to illustrate what can happen when you start to think different.
Get the Ball Rolling
Jake Rivas, CFP®. It's no secret that financial literacy in this country is low. With this in mind, Jake Rivas of i*financial (San Antonio, Texas) tries to help his clients understand the big impact that even minor financial decisions can make over time. Rivas finds that millennials, in particular, are burdened by debt and need strategies to start saving for a secure financial future. That's something that Rivas understands all too well, since he's also a millennial trying to plan and save.
So, when a friend told Rivas about a local college that was planning a day-long program to help graduating seniors thrive in the real world, Rivas jumped at the opportunity. He immediately sent an e-mail to the college's director of career services, highlighting his expertise and offering assistance. After some back and forth, the director agreed to put Rivas on the agenda.
His session focused on personal financial planning, and it was geared toward finding a first job out of college. The participants found it helpful, and the director was impressed. That got the ball rolling! When the director was interviewed a few months later by a San Antonio newspaper for an article on graduates and money, Rivas was top of mind, and she suggested the reporter talk to him.
The reporter did make that call, and over time, the two developed a relationship. Rivas was quoted in an article and has since had his own piece (on paying down debt while saving for retirement) published in the San Antonio Express-News. The total result has been more public name recognition than Rivas could have achieved on his own. In turn, that name recognition was why a contact at a large energy company in Texas reached out to Rivas to learn more about what he does. Fast-forward past a few phone conversations and preliminary meetings, and Rivas was invited to host an event for that company that attracted 15 of its young professionals.
Since then, things have really snowballed. Rivas has been a featured speaker at various young professionals clubs, where prospects have mentioned that they've read his article. He's also planning a podcast geared toward millennials at various stages of their careers. To celebrate, a launch party for the podcast will have clients and prospects—and both of Rivas's COIs—in attendance.
Small Talk, Big Business
Annie Morrison, AAMS®. When Annie Morrison of Zuma Financial Advisors (Hampstead, Maryland) first developed a relationship with her hairstylist, she definitely didn't have prospecting on her mind. Morrison simply needed a haircut, and she liked the woman who did it. At that time, she was living in Los Angeles and didn't have children. So, it was easy for her to make—and keep—regular appointments. Over time, their relationship developed naturally.
As part of their usual small talk, the stylist would chat with Morrison about what she did for a living, and Morrison would talk about the people she helped through financial planning. One day, her stylist asked Morrison for some of her business cards. Morrison was somewhat puzzled, but curious, and handed the woman several cards.
It turns out that having someone in a beauty salon chair for one to two hours creates the ultimate captive audience! The stylist would chat with clients throughout her day about what was going on in their lives, and many of those discussions would revolve around family and financial issues. The stylist would tell people, "You have to talk to Annie about that"—and to Morrison's surprise, prospects would indeed call for an appointment. In fact, Morrison can directly trace new clients back to her hairstylist. But what's also so key here is that people were talking about Morrison. Her name was regularly coming up in conversation, which is exactly what you want to happen.
Morrison has since moved to Maryland but stays in touch with her LA stylist—and still receives referrals. Morrison has talked about her services to her current hairdresser, hoping to replicate the process. She also networks with other members of her children's parent-teacher association. Among the high-powered prospects there, Morrison lists home-security business owners, physicians, and a judge, all of whom would make ideal clients for Zuma Financial.
Get Creative!
I hope these examples have illustrated the effects of fostering COI relationships in sometimes unexpected situations. And if you find yourself stalled when it comes to brainstorming for new COIs, this could make a great discussion for a staff meeting. Involve the people in your office, and see what kinds of ideas everyone comes up with. You'll probably find a creative idea or two worth pursuing the first time you try!
Have you established COI relationships in unexpected situations? Do you call on staff to help brainstorm ideas? Please share your thoughts with us below!