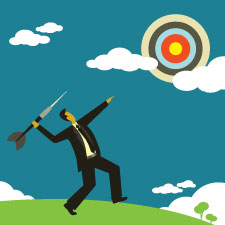 Advisors who aspire to grow their businesses often ask me what those at the top of the production chain are doing that makes them so successful. My answer? Top advisors are "focus in motion."
What do I mean by this? Here, I'll explore some of the key characteristics of top advisors and ways you can put their ideas to work as your practice evolves.
3 Traits of Highly Successful Advisors
1) Clarity of purpose. Top-producing advisors understand and can articulate the unique way they add value through:
What they do (e.g., financial planning, wealth management, risk management, etc.)
For whom they do it (e.g., their typical and/or ideal clients)
How they do it best (e.g., team approach, operational procedures, delegation to staff)
Why they do it (e.g., to help people pursue their dreams and create a legacy)
This clarity of purpose allows them to sort through the abundance of data they're exposed to each day and zero in on the information that can help them fulfill their business vision.


2) Constant motion. Besides having a laser-like focus on their goals, top advisors don't rest on past success. They realize that to make their visions a reality, they have to be in constant motion—creating an environment in their offices that allows them to adapt to never-ending changes in the industry, among their competitors, and in their clients' needs.

3) Continual improvement. Advisors with a focus in motion mind-set believe there's always a better way to do a particular task, and they continually pursue the most efficient methods or strategies. The activities that these change-aware advisors engage in may differ depending on the stage of their firm's evolution and growth, but they all share a goal-oriented focus.
4 Stages of Evolution
To uncover the strategies that can help you achieve focus in motion, let's break down an advisor's evolution into four stages, as discussed by Ed Oakley and Doug Krug in their book Enlightened Leadership:
1) Entrepreneurship. If you're in the entrepreneurship stage of the business cycle, then most likely you're highly motivated and energetic. This includes:
Doing whatever you need to do (including working around the clock) to survive in your new venture and pay the bills
Being flexible and adaptable
Viewing risks as opportunities to move forward
At this stage, it's important to stay focused on your vision for your practice while being discerning about the risks you take.
Up-and-coming advisors also benefit from a willingness to communicate. Many advisors in the entrepreneurship phase reach out to Commonwealth's Practice Management team for help sorting through the noise and identifying how to develop and refine their approach. If you're in this stage, don't hesitate to talk early and often about your vision and to seek assistance in moving forward. You might also consider:
Keep in mind that the entrepreneurship stage can last for years, particularly if you start your practice without clearly articulating the type of advisor you want to be. Without a clear direction, you will be in motion, but you may find yourself going around in circles. Once you choose a specific direction, your choices will carry you through to the next step on the journey.
2) Early growth. The early growth stage is marked by success in your target market and, consequently, in your firm's financial condition. In this stage, advisors often seek stability as they continue to focus on the activities that helped them achieve growth in the first place. In addition, many hire a new staff member (other than a spouse or child). Delegating activities to a new hire can be a risk, but if you are actively growing your firm, talented staff can be a boon to the organization.
With the addition of a new staff person, the seeds of management control will begin to grow roots. At this point, it's important to document your procedures, systems, and rules, which will help keep projects on track and make your office more efficient. Such documents may include:
A business plan
A marketing plan
Key advisor and staff procedures
Job descriptions
Organizational charts
Remember, though, that just because a process is documented doesn't mean it can't—or shouldn't—change. Top advisors keep their important business documents alive through regular review and revision, consistent with the progress of the firm, the industry, and the environment in which they operate.
Success in the early growth stage can be compelling! But be cautious: If you focus too much on controlling your current environment, you may inhibit your continued growth. In fact, expecting to build on past successes without making changes to other key aspects of the firm can put advisors on the slippery slope to late growth and decline. With this in mind, be open to:
Adopting new technology tools
Asking different questions of your clients to discover new needs
Adding more communication touches to your marketing calendar
3) Late growth. The late growth stage is characterized by:
Breakdown in communication
Development of a "habit" orientation (i.e., "We've always done it this way.")
Rejection of innovative ideas
Low energy
Firms in this stage are often stuck in what Oakley and Krug refer to as "boxes." You may have created such boxes to maintain control of early growth, but they can also restrict your ability to evolve and adapt to new situations.
Remember, the actions and choices that get you to the growth stage may not be the same elements that will help you move forward. You need stability, yes, but that stability should be in service to the continuous evolution of your staff, your culture, and your business model so that you remain viable in the market.
4) Renewal. To get out of the late growth stage (or to avoid entering it altogether), focus on cultivating an attitude of renewal, characterized by:
Openness and flexibility
Rekindling of the entrepreneurial spirit
Quality orientation
Willingness to take risks
Close client relationships
Receptiveness to change
To be sure, these are the qualities that top advisors typically possess. And if you can embrace them, too, it will prompt you to think, feel, and act in ways that open you to the possibilities of change. For example, continually look for:
New ways to accomplish old tasks
New ways of communicating with existing and prospective clients
New efficiencies
New products and services
If you find that you've put a box around your business, renewing your approach to various aspects of your practice can help you discover a way out.
Anticipate the Possibilities
Of course, you can't predict what the future will bring; you can make educated guesses about where the economy, the markets, the industry—and, thus, client expectations—may be headed and how you might adapt your practice as a result. Advisors who are stuck in the land of "business as usual" will find themselves lagging behind. But if you can adopt an approach of continuous renewal, you'll be well on your way to becoming focus in motion.
What are the other key factors to becoming a top advisor? Have you put any of these strategies to work for your practice? Please share your thoughts with us below.