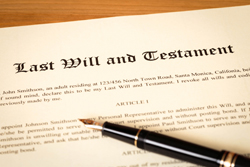 Many financial advisors mistakenly believe that estate planning should focus solely on estate tax liability at the client's death. Though minimizing taxes is a significant goal of estate planning, saving on taxes is not its ultimate aim. A successful estate plan also considers the human element by focusing on specific client wishes, as outlined in several critical documents—what I'm referring to as the three pillars of the estate plan.
As your client's trusted advisor, you are in a unique position to identify gaps in the existing plan, as well as inconsistencies or conflicts between these written documents and your client's current desires. So let's take a closer look at some of the key issues you should be looking for.
Pillar 1: The Will
A will is a written document that allows your client to divide wealth and property as he or she chooses. Your client can determine what to give to whom—including family, friends, or charitable organizations—and when. Without this document, your client's wealth and property will be distributed under state laws of intestacy—a lengthy and potentially costly process that doesn't guarantee that your client's wishes will be fulfilled.
A financial advisor can add tremendous value to the client-advisor relationship by carefully examining a client's will. When reviewing this document, be sure to answer the following questions:
Is the will complete? Are there any issues that should be discussed with the attorney?
Does the will reflect your client's wishes? Does any aspect of the will need to be updated or changed?
Does the will take into account the possibility of a child's future divorce, lawsuit, immaturity in handling financial matters, or disability? To ensure that you evaluate all the details of your client's will and estate plan, use our checklist.
Does your client understand the implications of the will?
Pillar 2: The Power of Attorney
The power of attorney, or POA, document names someone—an attorney-in-fact or agent—to handle your client's financial affairs after his or her passing, or in the event that he or she becomes incapacitated. The POA may help your client's attorney-in-fact or agent avoid court-ordered conservatorship of assets or guardianship
This document should include many important powers, such as:
An estate planning and gift clause
The ability to make a revocable trust irrevocable
The ability to apply for government benefits
The ability to exercise stock options
The ability to change beneficiaries of insurance or retirement plans
The ability to facilitate long-term care planning
A disclaimer for unwanted inheritances that will only increase the estate
Pillar 3: The Advanced Health Care Directive and Living Will
The advanced health care directive or health care POA designates someone to act on the client's behalf and to make health care decisions if he or she becomes incapacitated. This is often used together with the living will, which articulates your client's wishes regarding artificial life support.
The living will provides direction to your client's loved ones with respect to difficult medical decisions and may provide some relief to them under duress. Be sure that your client understands the importance of creating a living will and gives it to his or her primary doctor and hospital.
Bonus: The Trust
Depending on the size of your client's estate, he or she may also benefit from establishing a trust to govern the distribution of assets. The following are the primary reasons why you might recommend such an approach:
To circumvent probate (and avoid court fees) upon your client's passing
To manage your client's property if he or she becomes incapacitated
To distribute property to multiple beneficiaries
To protect an inheritance from a beneficiary's creditors
To minimize taxes
These three pillars of the estate plan, along with a trust (if applicable), are essential to ensuring that your client's wishes are carried out as intended. If you find discrepancies, or if your client is missing any documentation, don't hesitate to work with the client and his or her attorney to get the documents updated as soon as possible.
Remember, although the estate planning attorney is responsible for drafting the estate planning documents, implementing the estate plan is generally left to the financial professional. Your intimate knowledge of your client's financial circumstances, as well as his or her goals and dreams, makes you uniquely qualified to help your client avoid major estate planning pitfalls.
How do you approach discussing these important documents with your clients? Share your best practices below.