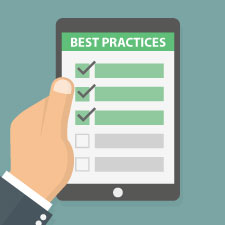 As a former auditor, I've been inside the offices of many financial advisors, giving me the opportunity to see plenty of best practices in action. But as I reflect on these auditing experiences, I realize that I've been asked a similar question by numerous advisors: "What are other advisors doing to manage client expectations?"
Based on my observations in offices around the country, I've collected these real-life best practices to address three common client questions—which, in turn, will help you in effectively managing client expectations.
1) "Did We Ever Discuss This?"
You're no doubt familiar with the old compliance adage, "Documentation is paramount." Still, documentation problems remain a recurring theme during audits for many advisors, particularly when it comes to advisory accounts. It's always important to ensure that you and your clients are on the same page by documenting everything you discuss.
To help keep the lines of communication open, here are a few documentation strategies you may find useful:
Before each face-to-face meeting, consider sending an agenda to your client that covers anticipated discussion topics and the paperwork he or she should bring to the meeting. You might also develop a questionnaire aimed at gathering up-to-date client suitability information. Once the meeting is concluded, the agenda and any notes from the conversation should be included in your client's file.
Do you have a registered assistant? If so, have him or her sit in on all client meetings to take detailed notes, which you can then use for review and comment. Be sure to upload these notes to your contact management system.
A detailed postreview summary letter is a useful means of summarizing your client meetings. Each summary should cover three topics: what you discussed, what your client discussed, and follow-up from the meeting. These types of letters can be maintained in your clients' files as correspondence.

For example, an office in Michigan sends its postreview letter to clients via registered mail and keeps the return receipt in the client file. The receipt serves as evidence that the client actually received the document, which can come in handy if issues arise later.
2) "Can I Trust My Assets to the Market Right Now?"
Part of managing expectations often means assuaging distraught clients' financial anxiety through education. To paraphrase an advisor I once visited in Minnesota: "It's not that the clients don't believe in me or what I am trying to do for them, but they just have a level of distrust in the market. I am spending more time educating them than ever before."
As part of this emphasis on education, many advisors choose to reach out to their clients with market letters that discuss the general state of the economy. In early 2009, FINRA eliminated the preapproval requirement for market letters that you write yourself and send to existing clients, making it even easier to leverage these important touch points. Under FINRA's current policy, market letters are defined as any written communication generally discussing or commenting on market conditions not otherwise defined as a research report. A market letter can include:
Discussions of broad-based indices
Commentaries on economic, political, or market conditions
Technical analyses concerning the demand and supply for a sector, index, or industry based on trading volume and price
Statistical summaries of multiple companies' financial data, including listings of current ratings
General recommendations regarding increasing or decreasing holdings in particular industries or sectors
Discussions of general market conditions and outlook that do not make any recommendations or promote a product or service
Overall, I think you will find that these letters not only provide valuable insight into market conditions, but also allow you to offer clients an enhanced level of communication and service.
3) "Is My Personal Information Safe with You?"
Identity theft and information security continue to be big client concerns. So, how can you calm clients' information security fears? Here are a few strategies you can implement to help reassure your clients that their confidential information is in good hands:
Use a detailed flowchart to show the levels of information security. For instance, the chart could outline firewall, antivirus, and spyware protection, as well as various other security protocols, including encrypted e-mail.
Have a staff member accompany each client to your personal office. Although this may seem like a simple practice, it reassures your clients that visitors don't have unfettered access to file cabinets, fax machines, and the like.
Encourage prospective clients to meet not only with you but with each member of the staff. Introducing clients to everyone with access to their information is a smart way to help quell clients' security concerns. Plus, it's a nice personal touch!
Ensure that your reception area is staffed at all times. If third parties were allowed to stroll through the reception area and into the office, your clients might doubt your office's security. Once again, what seems like a simple practice can go a long way toward reassuring clients that their information is safe.
Managing Expectations
Of course, best practices will take your office only so far. Ultimately, it is your attention to detail and adherence to good compliance procedures that will help you mitigate risk and effectively manage your clients' expectations. Although the practices I've shared won't work for everyone, they may help provide a solid base for the future of your business—and ease your clients' minds, too.
What are some common questions that your clients ask? Have you used a postreview letter or a similar tool to manage their expectations? Please share your thoughts with us below.