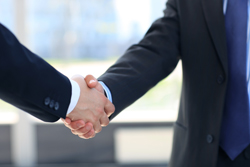 Since losing 20 pounds, my husband has been devoted to meeting his weekly workout quota. To reach his goals, he's developed a consistent routine and leans on me to be his accountability partner. To support him, I take on more household chores to free up more of his time and encourage him every step of the way.
When advisors say to me, "I want to grow my practice into a successful business," I immediately think of my husband's gym-going routine. Leading your business in the direction you want is the same: it's all about consistency and having someone to keep you accountable.
Nick and Joan Murray discuss this in their book, Talking It Over Just the Two of Us: A Guide for the Financial Advisor's Life Partner. With Joan as his accountability partner, Nick was able to focus on proven revenue-generating activities that helped him build a thriving practice and become an industry leader.
Here at Commonwealth, the Practice Management team and I consider this a great resource for financial advisors. The Murrays' sound advice can help you develop a successful accountability partnership.
This type of partnership may be just what you need to propel and improve your business, since your partner can help you maintain focus, stay accountable, and push yourself further. Here are a few best practices for setting up a successful partnership:
Choose the Right Partner
It's best to enlist a partner who has a stake in your success—perhaps your life partner, your business partner, or a close friend. He or she should have your best interests at heart and be fully committed to helping you achieve your goals, even when this requires challenging you.
Define Your Partnership
Explain to your partner why you need his or her help and lay down some ground rules for your partnership, including the timing and logistics of your meetings. Be sure to answer the tough questions. For example, what will you do if a meeting veers off topic? What should your partner do when you get off track? Discuss potential pitfalls and determine ways to address them together. Your partner should have a clear understanding of his or her role in your success and feel empowered to push or confront you when you need motivation.
It's important to nail down exactly what you want to achieve in the first place. Nick and Joan Murray were motivated to provide for their growing family, for example. My husband and I want him to stay healthy. By discovering what really motivates you, your partnership will be better positioned to move your business forward, especially when you hit the inevitable roadblocks along the way.
Meet Regularly and Consistently
The Murrays met twice daily: once first thing in the morning and once at night. They devoted the morning meeting to discussing what Nick would say to prospects, determining how many calls he would make that day, or strategizing about his upcoming meetings. They used the evening meeting as a time to reflect on the day's activities and discuss Nick's specific successes and failures. You and your partner may choose to meet less frequently, speak over the phone or e-mail, or set up your meetings differently.
Do what works best for you—and do this regularly. Staying consistent is where the rubber meets the road. When you make consistency a priority, meeting with your accountability partner is likely to become a habit, just like going to the gym.
Use an Accountability Tool
As a financial advisor, if you're not prospecting, you're not growing. To ensure that you're staying on track, record your daily revenue-generating activity to share with your partner. A great template for tracking and logging your activities is our 20-Point System. Be sure to download it and customize it for your unique needs. Remember that, at first, it's not just about the results, it's about forming habits for success.
Put It on Paper
Whether it's a successful referral conversation or a failed attempt to convert a prospect to a client, writing down your daily activities can be a powerful motivator. Your notes will create a living road map of your progress and visual proof of the steps you've taken toward your goal.
Maintain Strict Focus
Use your meeting time exclusively for business conversations. This may seem easy—even obvious—but it can be challenging to stay on topic at times (especially if your partner is also your colleague or life partner!). Be aware of how you use this important time. Keep obsessively focused on your own growth items; any topic beyond business activities is off limits during this time.
Discuss Learning Opportunities Found in Failures
Your partner can help you reframe your thoughts on failure. In discussing these events, you may find that they aren't as disastrous as you once believed. It may also help you to see more clearly exactly what you should take away from your missteps—and how to improve going forward.
If you want to lead your practice—instead of having it lead you—joining forces with someone you trust can be an excellent way to set yourself up for success. Besides, it's much more fun to share your accomplishments with someone else!
Do you have an accountability partner? What are other best practices that advisors should consider? Share below!