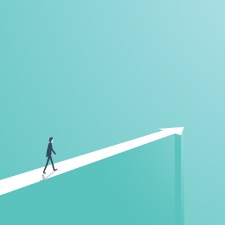 According to Merriam-Webster, the definition of scale is "to grow or expand in a proportional and usually profitable way." It includes the number of clients you have, the level of service you provide, which services your firm offers, and the efficiency at which you operate. But no matter how efficient you are, capacity will impede continued growth—and this is where building scale through leadership is critical.
As the leader of your firm, you need to be on the lookout for capacity ceilings, efficiencies, and shifts in customer needs and wants. It's critical for growing your business the smart way. The first step? Assessing your firm from the inside out.
Look Inward
Do you feel like you're in an endless loop of managing your book of business, running your firm, working with clients, and managing staff while your client service level diminishes and your staff has no bandwidth to improve it? If so, you've likely hit the wall—and the impact can be significant. Your relationships with clients and centers of influence can suffer, as can your ability to effectively prospect and accept referrals.
If you're in this situation, I encourage you to look inward at your practice by asking yourself the following questions:
How do I want to operate my business?
How big will my business be in five years?
Will I need a larger team?
How do I want to communicate with my team?
How will I track what goes on in my business?
How can I incorporate being a leader into the interactions I have with my staff and clients, service model, and marketing?
Are my systems and processes streamlining work and saving time?
Am I willing to make changes to realize gains?
The answers to these questions will get you one step closer to addressing the true issues that are affecting your firm's scalability.
Prepare to Adapt
Next, be prepared to adapt to the ever-changing landscape of the financial services industry. To do so, think about the following areas that will surely affect your firm's tomorrow.
Service model. The ways people want to manage their investments and communicate with advisors are changing, but relationships still matter more than ever. Take the time to review your service model and consider new ways to add value to the client experience. You may find that the number of touches your firm has with A clients is not enough—they usually need more than quarterly meetings, a holiday card, and a client event.
Changing demographics. As clients age, they transition from the accumulation phase to the distribution phase. If your goal is to maintain your book, you need to grow to replace these assets. As you work with the next generation, think about how you will adapt your ideal client profile, services, fees, and so on.
Specifically, as your client base evolves to a tech-savvier group, prepare for changing expectations. Remember, as the leader of your firm, you set the pace, tone, and example for how your staff should adapt so that, together, you can address your clients' evolving needs.
Efficiency. Technology can help your firm streamline its processes so that everyone is working smarter and saving time. Every task or project your firm undertakes should have a written process so that staff can complete work in a consistent fashion with the desired results. This applies to your efficiency, too. Are you using technology to document client meetings? How are you assigning follow-up tasks from meetings to staff? Are you handling asset management, or are you outsourcing it or assigning it to a paraplanner? When you work more efficiently, it allows your staff to do the same.
Best Practices to Grow Your Business
Finally, keep in mind these best practices to effectively grow your business through leadership.
Delegate. How many tasks are you handling that are not client facing? Such tasks can be a distraction, so consider delegating more to your staff. This will allow you to work more efficiently on those tasks that focus on deepening and extending relationships and increasing revenue. Ensure that you are spending time with the right clients and prospects so that you work at optimal efficiency.
Prepare for prospects. As your client base grows, so will the opportunities for referrals. Build in processes to handle them so that you don't have to turn away promising people. From your prospecting kit to your prospect meeting, the experience should separate you from the pack and be consistent for every prospect the firm touches. This also extends to existing clients. What are you doing that differentiates service in your firm and makes each client interaction unique? Your marketing initiatives should reflect the answer, and every marketing activity should be done with intent. Consider why you are doing each activity, who it will reach, and the result you hope to achieve.
Standardize processes. Efficiencies are critical to the continued success of the firm, but they occur only if you adopt standardized processes and procedures. When you do this well, your team will be working smarter, not harder.
Hire the right people. As your firm grows and the complexity of the tasks continues to increase, you're likely to see staff reach capacity. It's critical to hire before everyone has reached their bandwidth. But before posting a job, assess the firm's needs so that you are hiring for the position that is most important for continuing the forward momentum in the firm. Then, hire the right people by assessing skill and cultural fit. If you don't find the right candidate in a reasonable time frame, keep looking. When you settle for someone, chances are you will be repeating the recruiting process in a short time. Turnover is not only costly, but it is difficult for other staff who must assume responsibility for the tasks and have to train the next new person.
You'll also want to ensure that you dedicate appropriate time to onboarding and training new employees. Have processes in place to ensure that new employees understand your business, your ideal client, the service model, and the steps they should be following to complete each task accurately.
Personalize the client experience. Your service model will take on renewed emphasis as you deepen and enrich existing client relationships and build new relationships through prospecting initiatives. It will require a more personal touch—you'll need to understand all aspects of a client's life so that you can personalize the experience and make it unique for each client.
Lead Your Firm into Tomorrow
Your leadership is essential to building scale into your firm. A scalable practice supports continued growth and allows you and your staff to focus your energy on working efficiently and strengthening your relationships with current and future clients. I think you will find that the strategies discussed here will support your firm not just today but well into the future.
How do you build scale in your practice? Have you adapted your service model for the next generation of clients? Please share your thoughts with us below!