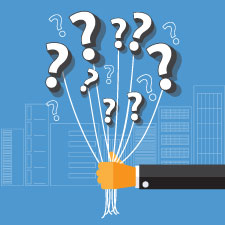 As a first-generation Scot, I grew up hearing the phrase "to be at sixes and sevens." My mother would say it when I seemed unsure what path to take. The remedy? Review my priorities and determine the appropriate next step.
In the world of business, however, best practice is to take stock of your priorities before getting to "sixes and sevens." A great way to do so is by reviewing your book of business. Here, I've compiled a list of questions to ask yourself as you evaluate your practice. I think you'll find this exercise to be both enlightening and effective—and one that may just lend clarity to your other business initiatives.
1) What Size Is Your Book?
Generally speaking, one advisor can comfortably handle 150 to 175 household relationships.
Is your book larger than that? If so, you risk overextending yourself and your staff on service issues. In turn, this could limit your ability to:
Strengthen existing client relationships
Offer additional or higher-touch services
Is your book smaller? If your book is smaller than 150 households, it's likely that you put the quality of your client relationships above all else. But are you trying to do too much to keep your clients happy? Keep in mind that the effort you put into your existing relationships is unlikely to be scalable and may actually inhibit growth.
Once you've assessed the size of your book, it's time to evaluate the scale of your services. And to achieve scale, you must first categorize your clients.
2) Have You Categorized Your Book?
To begin the process of categorizing your book into A, B, and C clients, create an ideal client profile to pinpoint the type of client that is likely to contribute to the growth of your business. You may want to focus on the following "ideal client" attributes:
Planning needs
Assets under management (AUM)
Annual revenue generated
Product and service mix
Demographics (age, marital/family status, career status)
Personal interests
Effectiveness as a referral source
Once you've selected the attributes you would like to include in your ideal client profile, decide which ones are nonnegotiable. The remaining attributes can be used to define your B and C clients. (Be sure to add these client categories in your CRM system.)
For those of you who have already categorized your book, there are a couple of questions to ask yourself. First, do you have a tiered service matrix to help you focus your time and energy on the highest-quality clients? On average, advisors have only 2,000 hours per year to give their clients. Defining the services you provide to each client category—once again using your CRM to keep track of the details (e.g., length and frequency of meetings)—is an effective way to make the most of that time.
Second, do you have a fee matrix? Keep in mind that an effective fee schedule will properly align your fees (AUM and consulting) with your client categories.
3) Which Clients Generate the Most Referrals?
Here, you'll want to review which clients give the most referrals, as well as whether those referrals are high quality. That is, do those referrals reflect your ideal client profile?
If clients generate high-quality referrals, conduct an annual referrals program around these clients.
If clients aren't consistently giving you referrals, they may not know that you're open to talking with prospective clients. With this in mind, plan a conversation about referrals with your clients at least once per year.
4) Which Clients Provide the Most (and Least) Revenue?
The goal here is to determine the nominal and proportional annual revenue received from each household.
Is your business overreliant on your top clients? It's important to be aware of concentration risk inherent in too few high-revenue clients.
Which clients generate less revenue per year than expected? Make note of any clients who realize net negative revenue or revenue that equates to less than two hours of your time. You may want to rightsize your services to these clients or encourage them to find an advisor better suited to their needs.
5) Where Does Your Revenue Come From?
Be sure to look at both nominal dollars and their proportional influence on your practice.
Is there concentration risk among your revenue streams and product lines?
Can you find opportunities to mine your book for potential unaddressed needs (e.g., insurance policy reviews)?
Pave the Way for Future Growth
Of course, your clients are more than the dollars they generate or the services they require. But this review will help you identify potential weaknesses or risks within your practice. Plus, it will provide the information you need to make the informed decisions that will pave the way for your practice's future growth.
Have you categorized your book of business? What other questions should be asked when reviewing your book? Please share your thoughts with us below.
Editor's Note: This post was originally published in May 2015, but we've updated it to bring you more relevant and timely information.