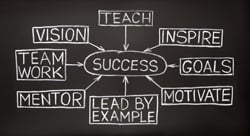 Managing and leading a team of employees and staff can be challenging. But it is also one of the most critical roles you perform for your small business. By adopting certain practices of successful advisory firm leaders, you can help bolster productivity and create the company culture that you've always aspired for. Best of all? You can rest assured that these strategies will never go out of style—no matter how markets, regulations, products, and trends may change.
Share Your Vision
As the leader of your firm, you establish the business's mission and vision statement, as well as define the goals. But be sure that you don't do this in a vacuum—involve your employees and incorporate their feedback. When they feel that their thoughts and input are valued and that they are a part of the business's growth, they're more likely to be engaged and loyal.
To ensure that your entire team understands and feels part of the firm's direction, be sure to:
Discuss your business goals with staff periodically. If amendments are needed, communicate those changes to staff so that you are all on the same page. Open communication is critical to success.
Solicit feedback from your staff to foster an inclusive environment. Although you may not be able to implement every idea, knowing that their ideas are taken seriously can increase employee engagement.
Model the positive attitude and thinking that you want to see in the workplace. This is contagious and will set the tone with your staff.
Keep your staff up to date on how to handle challenging situations, especially if the situations are ones they haven't dealt with before. For particularly sensitive situations, provide a script for staff to use when having a conversation with clients. This will provide a consistent message no matter which staff member is speaking with a client. Your employees are your front line; you need to invest in them.
Enable Your Team to Enhance the Client Experience
Setting your team up to provide great client service has two benefits. First, your employees will be able to consistently create "wow" experiences for clients that strengthen the client-advisor relationship. Second, your employees will gain a sense of pride and satisfaction. In turn, this helps them be more engaged, productive, and loyal to your firm.
Enable your employees to provide great client service with the following steps:
Establish that the client always comes first.
Work with your staff to create a tiered service matrix. To do this, segment your client base into different categories and define the types of services that you will provide to each group. This can help you and your staff use time and resources more effectively.
Choose words that create a positive experience. When a client thanks you or a staff member for your assistance, instead of answering, "No problem," say, "It was my (our) pleasure." Words matter, and this simple change can enhance the client experience.
Emphasize that you and your staff should promise only what you are certain you can deliver. The wisdom of the statement "under promise and over deliver" is more applicable today than ever.
Put a system in place to track pending tasks that you and your staff are committed to using consistently. Follow-through is essential.
Ensure that your CRM system is current. Tracking clients' life events (and other significant personal information) provides an opportunity to demonstrate how important they are to you. The touches you conduct around birthdays, anniversaries, graduations, and so forth, can have a meaningful impact on the client experience.
Coach Your Employees to Excel
When you have an engaged, efficient staff, it allows you to focus on what you do best. But this doesn't happen without work on your part. You must consistently coach your employees to do their jobs to the best of their abilities. Be sure to:
Identify with your staff what is working and where there are opportunities for improvement. Next, take action to implement changes to correct the problem areas.
Set boundaries so that you and your employees can find the appropriate balance between work and life.
Provide ongoing feedback so employees know what they are doing well and where there are opportunities to grow.
Help staff establish personal goals that directly relate to your business goals. This will help them understand the key role that they play in the firm's success.
Remember to say please and thank you when communicating with your staff.
Praise your staff when they have done a great job or when they have gone above and beyond what was expected. This lifts morale and reinforces the behaviors you'd like your staff to demonstrate.
Find the humor in everyday events. Humor can help lighten the mood, especially during tense situations. It also helps staff relate to you and builds camaraderie during difficult times.
I'm sure that you've noticed a few recurring themes: attitude, communication, and follow-through. When advisors adopt these three practices of successful advisory firm leaders, they often find that they approach their work and management responsibilities with a better attitude, communicate more effectively, and have greater motivation to follow through on ideas and tasks.
I can't promise you that implementing these strategies will make conducting all of your business smooth sailing, but I bet it will help make your firm a better place to work and make navigating turbulent waters easier!
Have you implemented any of these practices? Do you have any other management tips for financial advisors? Share below!