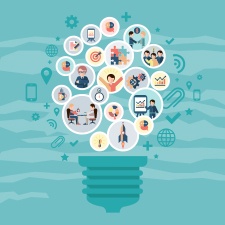 When you hear the words "human resources," do you want to run for the hills? If so, you're not alone! For many advisors who have gone the independent route, human resources is often the business unit where they have the least experience. But when you have the right employees, doing the right jobs, you can create a more efficient, profitable, and scalable practice. So, to help you tackle this important facet of your business, I've compiled 10 best practices for developing a human resources strategy.
1) Differentiate Your Business to Recruit the Best People
Recruiting is more competitive than ever, and you may feel that you can't compete with larger firms. The trick? Differentiate yourself. Keep in mind that many candidates want to do work that is meaningful and to make a difference. If you run a small firm, your employees have the opportunity to make an immediate and powerful impact on the business. Further, they often have the chance to work on varied initiatives, and their experience isn't restricted because of their position. So, while the benefits package you offer may not be as robust, there are other ways for you to provide a richer, more valuable employee experience.
2) Recruit for Skill and Cultural Fit
When you interview candidates, dig deeper to really assess the skills that are outlined on their resumes. For example, if you're hiring for a client service role and a candidate indicates he has client service experience, you might ask him:
To describe outstanding service
How many inquiries he handled on a daily basis
If he handled the inquiries directly or passed them on to someone else
Just as you don't want to compromise on a desired skill set, cultural fit is of utmost importance. Be sure to clearly define the values you embrace in your firm and how these values define how you do what you do, ensuring that every interaction a client or prospect has with your firm is consistent. When a candidate's values differ, it's unlikely he or she will meet your expectations.
3) Define Expectations
Employees and prospective employees need to know your expectations, so be clear in the job description about the responsibilities that are the focus of the position. You should also clearly articulate your expectations regarding the firm's core hours, employee attendance, the firm's service model, rules for using firm e-mail and Internet, and so forth. Bottom line? When everyone is on the same page, it helps all members to be successful.
4) Provide Regular Feedback
Many firms have adopted the annual performance review as a standard for providing feedback, which is great. But discussing performance once a year isn't enough. Consider meeting with employees at least monthly to provide ongoing feedback, and try to engage in an informal discussion focused on specific topics that you and the employee agree to ahead of time. That way, when you conduct the annual review, there won't be any surprises. Instead, it will be an opportunity to spend time thinking about the future and what you and your employee would like to achieve going forward.
5) Learn What Motivates Employees
Would you be surprised to learn that Gallup concluded that salary isn't the greatest driver of employee motivation? Instead, employees are motivated when they feel they are part of a team, when they do work that is meaningful, and when they are making a difference. So, how can you foster an environment that recognizes employees for a job well done? Consider these ideas shared by other advisors:
Provide free perks, like movie tickets or gift cards
Allow an employee to leave early one day
Give employees the day off for their birthday
Write handwritten thank-you notes
Whatever motivational tool you choose, taking the time to acknowledge a job well done goes a long way and reinforces the positive behavior you want from your employees.
6) Delegate
Many advisors have shared with me that they do tasks themselves because it's easier and takes less time than teaching staff members how to do them. But the time you save now can actually undermine you in the future, as you will eventually have competing priorities. In addition, the less you delegate, the less valued your staff will feel—leading to turnover, a costly disruption. Instead, commit to training your staff so they can take non-client-facing activities off your plate. As you do this, think about how you will handle mistakes. By treating mistakes as learning opportunities, you allow your staff to create solutions to prevent those errors from happening again in the future.
7) Embrace Technology
Technology is critical for today and tomorrow. As you prepare for the transition of wealth from older to younger clients, it's important to understand that you will likely see a shift in how these younger clients use technology. Technology can help bridge this gap, allowing you to communicate and process business in a way that will meet the needs of different generations.
8) Invest in Staff Development
Employees want opportunities to learn and grow. Without such opportunities, they will become stagnant and unchallenged. Here at Commonwealth, our Practice Management team provides many programs geared toward our advisors' staff development. Consider sending your staff to industry-specific training, covering certification fees, offering tuition reimbursement, providing a local membership to a professional association, or paying for online classes. On a simpler level, encourage staff to read industry periodicals like InvestmentNews to stay current with what's happening in the industry. Keep in mind that for every learning opportunity, there should be action steps and an implementation strategy to apply that learning to the employee's position.
9) Clearly Communicate Your Compensation Program
In our industry, it's common to have two components of compensation: base salary and incentive. Over the past several years, however, there's been a shift away from tying the base increase to tenure; instead, these increases are now often linked to performance. Think about whether this system could work for you.
You'll also need to outline incentives versus bonuses. A bonus is often a one-time reward for something the employee has no control over (e.g., a holiday bonus or a bonus because the firm had a good year). Incentives, on the other hand, are tied to specific goals the employee must achieve to earn the reward. Here, goals should follow the SMART method (specific, measureable, achievable, realistic, and time bounded), and you should review them with staff at least quarterly to ensure that they are still valid and to help staff overcome any obstacles they may be encountering.
10) Be Accessible
Whether your staff is experienced or new to your firm, it's important that you make yourself available to them. Your staff members need to feel a connection to your firm—and you are that connection. Why not conduct a five-minute stand-up meeting every morning? It's a great way to quickly review what's on everyone's calendar for the day. It also allows you to work with staff to prioritize their tasks. Another idea is to block time on your calendar for questions. By scheduling this time for questions or other discussions, it eliminates interruptions so that you and your employees can stay focused on the task at hand.
What other best practices for developing a human resources strategy have you put into place? How often do you meet with your employees? Please share your thoughts with us below!