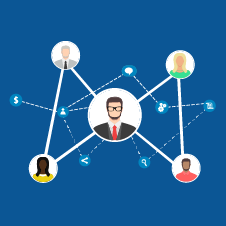 New clients are the lifeblood of a thriving practice. Yet, I find that many advisors focus too intently on their prospecting activities and fail to take advantage of the opportunities for business growth sitting right across from them: their existing clients.
There are several ways to gather assets through existing clients. One is by consolidating and managing all of the assets your clients hold currently; another revolves around gaining introductions and referrals. Yet another opportunity is to add more client assets over time and ensure that you are aware of when money is in motion. This post will focus on the first two: consolidation and introduction strategies. (I'll cover money in motion in a future post.) Let's take a closer look.
Asset Consolidation
Research shows that most clients use more than one financial advisor, and the higher the client's net worth, the more likely this is to happen. According to a 2017 Cerulli Associates report, clients with $2 million–$5 million use an average of 1.8 advisors. In other words, clients like to spread their money around with multiple advisors. I know, I know, you manage all of your clients' money. But . . . are you sure? We all have some blind spots in our conceptions of our abilities and our practice. The key is to be aware of these blind spots and to do our best to overcome them.
When clients first begin working with you, it's understandable if they have assets in other places. They might have other relationships and be reluctant to hurt feelings by moving all their money from an advisor, or they might just want to test you out and see if they like you before they bring all their assets over. But if clients have worked with you for a while, they should know you and the services you provide. And they should be willing to consolidate their assets with you—not just because they like and trust you, but because it's the only way you can do the best job possible for them.
If you create a customized portfolio for a client without knowing that he or she has $500,000 in Coca-Cola stock or an inheritance sitting somewhere else, what does that do to the risk/reward profile you've carefully curated? And those of you who act as fiduciaries have even more stringent reasons to want to know where all the money is; your recommendation can't just be suitable—it has to be in your client's best interest.
So, be sure to ask clients, point blank, whether they work with another financial professional or if they have assets being managed somewhere else. This isn't just curiosity on your part—you need to know. Here's an example of how to get the asset consolidation conversation started with your clients:
"Maria and Jose, you've been clients of ours for some time now. When managing your portfolio, we match your risk tolerance with potential reward and make tough choices based on the assets and cash flow we think you have. So it's critically important that we are aware of everything you currently possess. Do you have assets being managed anywhere else?"
If clients have assets elsewhere, hopefully a direct question will gain you information, and you can handle it from there. If they don't have any assets with another advisor, thank them for the vote of confidence!
Introductions and Referrals
If you do have all of a client's assets to manage, it's probably safe to assume that they like and trust you, which is ideal. After all, that's where referrals and introductions come from. A recent study titled Advisor Relationships and Changing Advice Requirements by Spectrem/Vanguard indicates that "clients who had high trust in their advisors had a 70-percent likelihood of giving them more money to invest and a 94-percent chance they would recommend their advisor"—that's a huge opportunity for growth!
With this statistic in mind, it's important to ensure that the clients who are willing to refer people to you know whom to refer to you. Have you had a conversation with your clients recently about introductions to ideal clients or the type of people you are qualified to work with? It's helpful for clients to know your niche capabilities, if you have any, and for you to articulate the problems you solve and the people you help. Otherwise, you might end up with a referral to someone with limited assets or just a small IRA to roll over. It's up to you to help your clients understand when you'd like your name to come up.
Take a look at the following examples for inspiration on how to guide your clients toward providing ideal referrals:
"John, it's great that we have a plan to exercise your stock options. Not only will you be capturing some gains, but you'll reduce the taxes you have to pay. If there are other executives at your firm whom I can help with stock option strategies, I'd be happy to be a resource."
"Tien, I'm glad we were able to maximize your social security payments. Not many people know there are special claiming strategies for divorced women like yourself. If you happen to be in conversation with other divorced women, and you think they might benefit from sitting down with me, just know that I'd be happy to be a resource."
Make the Most of Every Opportunity
With a new year in progress, there's no better time to begin making the most of your existing book of business. Start talking with the investors you work with, one by one, and you'll be sure to add more client assets through consolidation and great referrals. With just a few tweaks to your regular conversations, you can maximize the full potential of your client relationships and set up opportunities for business growth.
Have you used these strategies to add more client assets? How did your conversations go? Were you able to gain desirable referrals? Please share your stories below!