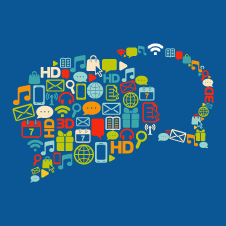 In the not-too-distant-past, advisors were limited to face-to-face meetings, letters in the mail, newspaper ads, and cold calling to reach new clients. But times have changed, and while face-to-face meetings and networking will never go away, a whole new (digital) world has opened up to us.
We talk a lot about the next generation of advisors who are making a name for themselves in our industry, but I also think we need to talk about the next generation of finding new clients. Call this the Golden Age of Prospecting. Advisors have more ways to build their brands and reach new clients than ever before, and younger advisors are helping to expand their firm's reach and connections. Technology offers better, faster, and cheaper methods to reach your ideal targets, with better, faster results.
Advisors (of all ages) often ask how to network in an era of smartphones and social media. The best marketing employs multiple mediums and touches for optimal results. Here are a few, in order of priority.
1) Refine Your Website
The quality of your website is immensely important. It should have a clear, compelling message and images that are tailored toward your ideal clients. It is vital to quickly and easily convey two things:
Who are the people you help?
What are the problems you solve?
It would also be wise to convey intangibles, such as the following:
What's your personality? Are you friendly and caring?
What are you like with your clients? Are you easy to work with? Respectful? Patient?
What do you care about? Are you involved in your community?
Basically, who are you? And how can you tell the world in an (even more abbreviated) elevator speech?
Your website is one of the key building blocks to your entire brand and marketing strategy. Other marketing you do typically is designed to drive people to your website, where they should be compelled to make an appointment with you. But will they? According to digital marketing agency Sweor, research shows "it takes about 50 milliseconds (that's 0.05 seconds) for users to form an opinion about your website that determines whether they like your site or not, whether they'll stay or leave." Further, it takes 2.6 seconds for those users to focus in on the area of your site that resonates with them most.
If prospects looked at your website for two seconds, would they see anything that would tell them you could help? Do you have any call to action that could engage them further? Some advisors engage prospects through simple click-throughs, where a prospect chooses the topic of interest. Others have videos to watch, questions to answer, or blogs to read—all to entice prospects to engage.
Many of you may grow through referrals, but even these prospects are likely still looking at your website first. Think about your own behavior; you probably don't go to a movie or eat at a new restaurant without checking it out online first. Your website matters!
2) Master the Art of Digital Networking
LinkedIn was designed for business networking, but it's also a fantastic tool to help you reach new clients—are you using it to your advantage? With LinkedIn, you can:
Communicate with prospects and clients
Learn more about the people you're trying to attract and allow them to learn about you
Maintain an active presence through posts and comments
Share news about a workshop, a guest speaker, or even a shredding event where prospects are welcome
View your clients' connections for prospects
Ask clients for an introduction to a connection of theirs
Posts on LinkedIn can travel far, and there's no telling who might see them. All of this helps build your brand and search engine optimization (SEO).
3) Promote What Makes You Different
Content is a valuable differentiator. Think carefully about the ideal clients you are trying to attract; then, decide where and how you should reach them and what that conversation should look like.
A company Facebook page can be a wonderful thing, but it was designed for a two-way communication that FINRA-registered advisors aren't allowed to have, and you must work within its limitations. So, use Facebook to post photos of events, workshops, and volunteer activities, as well as to invite people to your events. Think of Facebook in terms of visuals and storytelling.
Case studies are a wonderful way to highlight your expertise with ideal clients. Simply detail a client scenario, the financial issues involved, and how you were able to help. It's a way for clients to see your value in multiple situations. You're creating a before-and-after scenario—which many are drawn to—and valuable content that can be used in multiple places.
Podcasts are relatively easy and inexpensive to produce. They can appeal to commuters, runners, and busy people everywhere, as you can listen on demand. Use podcasts to build your brand, convey expertise and information, encourage dialogue, and attract prospects. The best podcasts accomplish all of this.
Blogs can help draw people to your website as well as establish your expertise. From helping with SEO to building a content library, or feeding social media to attracting leads and prospects, blogs are a powerful tool. Get inspiration by studying successful blogs.
Video is growing in popularity, and more advisors are using this medium to their advantage. Some of the video content is evergreen, and advisors tend to have these videos professionally done. Technology also enables advisors to create their own short, focused videos on specific subjects that can be used multiple ways.
Make the Most of Your Content
When done well, your marketing activity starts to feed upon itself, creating better results than any one strategy or tactic could achieve. Posting material to your website and sharing it on LinkedIn or Facebook helps your SEO. With better SEO, you're more likely to rank higher in Google searches, leading to more website traffic, engagement, and so on. Whether you're a seasoned advisor or part of the next generation, content is key in 2019. It's time to take advantage of the digital media available to you to stretch your reach as far as possible.
Have you employed any of these techniques to reach new clients? What else do you do to strengthen your brand and marketing strategy? Share your thoughts below!