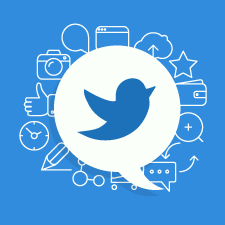 Years may have passed since you first established your firm's Twitter account. But if any major changes have occurred over time—such as a new business name or brand refresh—then your username may need to change, too. How can you update it to better reflect your firm without losing followers? Below, I'll walk you through two ways to change your Twitter username, as well as some best practices.
Why Your Username Matters
As with any social media platform, your Twitter username (also commonly referred to as your "handle") reflects your brand and leaves an impression on visitors to your profile. It's critical that the username you choose is professional and makes sense based on your business. Ideally, your username should be consistent across all of your social media accounts to make it easy for people to find you and tag you in posts.
Knowing When It's Time for an Update
Even if you've been using your Twitter username for years, there are a number of reasons why it may have fallen out of date. Fortunately, Twitter allows you to change your username without losing any of the historic posts and interactions you've shared with your followers. To ensure that your online presence is current, consider updating your username if any of the following apply to you:
You've changed the name of your business or have done substantial rebranding.
The evolution of our industry has led to a change in your clients' needs, and you'd like your profile to reflect that change.
Your current username is not strategic (e.g., too long, looks unprofessional) or includes a typo or other mistake.
Your Twitter username is inconsistent with the usernames you use on other social media
Be sure that you're making the right move. While it's simple to carry out, the decision to change your Twitter username should be one that you consider carefully. Some brands can lose more than they gain from changing their username, as it can be confusing for followers if they're not informed of the change or if the new username is more difficult to remember and include in tweets.
Creating and Securing a New Username
If you've decided it's in your best interest to change your username, there are a few best practices to keep in mind. Think about what an ideal username would be not just today, but for years into the future; this will help you avoid having to go through the renaming process again.
If the username you want is taken but no longer active, try reaching out to the account owner directly to ask if he or she might allow you to use it. Usually, you can find a way to contact the person through a simple Google search. Twitter has a strict rule against paying for usernames, so if the account owner wants you to pay, be aware that doing so puts you at risk of being kicked off the platform.
If you're unable to secure the username you want, an alternative is to modify it slightly to find something that's available yet still memorable and relevant. For example, you could add a location (@FirmNameMA) or an underscore or hyphen (@Firm_Name). But be mindful of length, as your username contributes to the character count for any tweet in which it's mentioned.
How to Make the Change
Once you're ready to transition to your new username, you have two options for carrying out the change without losing your followers:
Option 1: Update your username within your existing account. The easiest way to change your Twitter username is simply to edit it in the settings of your existing account.
Log in to your Twitter account, click on your profile picture, and select Settings and privacy.
Enter your desired username in the corresponding field. If the username is not already taken, "Available!" will appear.




Save your changes to confirm your new username.
Send a tweet to let your followers know you've changed your username, and resume tweeting as usual!
Option 2: Create a new account to "squat" on your existing username. This second, more complex option is useful if you prefer to "squat" on your current username so that no one can claim it in the future. But doing so is frowned upon by Twitter and likely isn't necessary unless you have specific concerns, such as that another user might take over your old conversation history.
Create a new Twitter account with any username that's available (for example, @TemporaryUsername). Once the transition is complete, this account will host your @OldUsername. So for now, any username will do.
Log out of the new account, then log in to your existing Twitter account and go to Settings and privacy.
Enter your desired @NewUsername into the corresponding field. If the username is not already taken, "Available!" will appear. Save your changes.
Log back in to the @TemporaryUsername account and go to Settings and privacy. Update the username to your @OldUsername and save your changes.
Send a tweet from this account to let visitors know that you have a new username. Pin the tweet and log out.
Log in to your @NewUsername and send a tweet to let your followers know you've changed your username. Begin tweeting as usual with your new account and username!
Consistency Is Key
Once you change your Twitter username, remember to update all existing links to your profile, such as on your website, additional social media pages, e-mail signature, business cards, and other promotional materials. Because your username reflects your brand, you should continue to revisit and evaluate your username, as well as the content, tone, and schedule of your messaging, to ensure consistency in your interactions with clients and prospects. Happy tweeting!
Do you have tips for keeping your Twitter profile up to date? How do you ensure that your username reflects your brand? Please share your thoughts with us below!