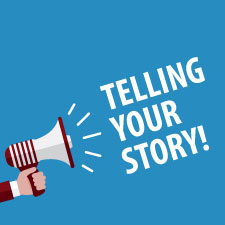 What differentiates you from your competition? It's a question I've asked many advisors while discussing their marketing efforts. Often, I hear similar answers: "my focus on service," "my commitment to my clients' well-being," or "my expertise in financial planning strategies." Of course, there's no question that these are essential qualities for any advisor. But can they help you in positioning yourself with prospects and differentiating yourself from the competition?
To help answer this question, I'll look to the world of the NFL and pop stardom to provide key lessons on making connections with potential clients—starting with how to find your why.
Find Your Why
The trouble with many marketing strategies is that they focus on service, past successes, and expertise, describing what you do and how you do it. To really connect with prospective clients, however, you need to explain why you're in the business and why they should work with you. Expertise and resources are important, but many advisors share those same qualities. It's the why that can:
Accelerate trust
Solidify relationships
Allow you to stay a step ahead of the competition
So, how do you pinpoint your why and create opportunities to convey it to clients and prospects? To answer those questions, let's turn to Tom Brady, obviously.
A page from Brady's playbook. Tom Brady's appeal as an athlete isn't simply a product of his prowess on the football field. His inspiring personal story—from 199th draft pick to one of the NFL's top quarterbacks—has undoubtedly contributed to his popularity. The film The Brady 6 depicts the events leading to Brady's selection by the New England Patriots in the 2000 draft. It includes a glimpse at his prescouting report, which noted such weaknesses as "poor build," "can get pushed down more easily than you'd like," and "lacks a really strong arm." Not surprisingly, teams weren't clamoring to sign him; in fact, the film's title refers to the six quarterbacks who were chosen ahead of Brady in the draft.
But those six quarterbacks no longer play in the NFL or were released by their respective teams. Tom Brady, on the other hand, has become one of the most famous names in sports. Along the way, his struggle to prove himself has become the cornerstone of his personal brand. Instead of playing down his early setbacks, Tom has embraced the narrative of his rise from the bottom of the draft pool. Being drafted low lit a fire under him to succeed, he says; overcoming his inauspicious start in the NFL became his why—and what sets him apart from many players with similar talents.
Tell Your Story
Your personal story may not be quite as dramatic as Tom's, but it can help you forge a more immediate connection with potential clients. When thinking of your story, start by asking the following questions:
Why did you become a financial advisor?
What drives you to do what you do? (For example, did you see your parents endure hardships? Did your grandfather's work ethic inspire you to strive to be just like him?)
You might tap into your why by thinking about the following:
A significant childhood event
Your life as an adult
The experiences of a loved one
Your career as a financial advisor
If you haven't thought much about your why before, this exercise may be somewhat challenging. But doing the work to define your story is key to developing compelling, authentic marketing messages that not only intrigue and attract clients but also differentiate you from the competition.
Use Technology to Connect: Notes from the "Beyhive"
Fame, fortune, family—the multitalented Beyoncé is a woman who has it all. And while other celebrities of her caliber seem untouchable, she's known as one of the most down-to-earth figures in entertainment. Why? In part it's due to her savvy use of technology to connect with her fans—or, as she likes to call them, her "Beyhive." Through her website, blog, and social media, Beyoncé lets people know who she is as a person—not just a performer—a strategy that's rewarded her with a loyal community of raving fans.
So, how does she do it? Here's a look at some of her most effective strategies:
Sharing vivid, visual content. What does Beyoncé like to do on her days off? Besides eating In-N-Out burgers with a large order of fries, she enjoys going to the beach, walking around New York City, and visiting art galleries. By posting photos of her favorite things on various social media sites, she gives fans an inside look into her everyday life.
Staying relevant. Showing that she's attuned to current events helps Beyoncé stay relevant and relatable. On her website, she posted photos of herself voting in the 2012 election, for instance, and has expressed her support for marriage equality.
Being her own publicist. Instead of relying on traditional media, Beyoncé promotes herself through her own website, blog, and social media channels. From the track list for a new album to the announcement of her latest world tour, her fans know that they'll hear the news from her first.
Create a Community of Fans
Fortunately, you don't need to be a major celebrity to take advantage of Beyoncé's methods. As a complement to face-to-face conversations, online interaction is a great (and relatively easy) way to show potential clients who you are as a person. For example, you might:
Share your personal story, passions, and interests on your website.
Post pictures of local events you attend, charitable activities you support, or office happenings on your social media profiles.
Include client scenario videos on your website, focusing on your ideal client and the benefits you can provide to this group.
Launch a blog that highlights your professional expertise, as well as personal stories and insights.
Develop a comprehensive content marketing strategy that includes relevant articles, social media updates, white papers, and presentations.
Get Personal
Remember, it's your personal story—and how effectively you share it—that sets you apart from other advisors. Your credentials and service matter, of course, but clients want to know more about the person they hire to manage their financial life. Your story doesn't need to be flashy; it just needs to be authentic—providing a window into your personality and interests. Cultivating a personal, professional brand presence will help you give prospects a compelling reason to do business with you—and help you convert current clients into a loyal community of vocal supporters.
How do you tell your personal story to prospects? Have you started a blog or used social media to effectively reach your ideal clients? Please share your thoughts with us below.