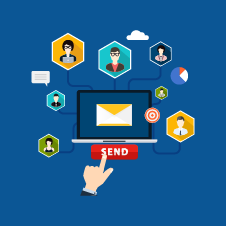 E-mail newsletters offer a great opportunity to strengthen your connection with clients and prospects. But you can't just throw a few articles into a Constant Contact template and call it a day. Strategy, goals, and, yes, your audience matter. Here are some things to think about when creating an e-newsletter for your firm.
Why Bother?
If you're creating an e-newsletter simply because you think you should, you're starting in the wrong place. What are your business goals, and how will this newsletter support those goals? Maybe you're looking to increase leads. If you're a thought leader on socially responsible investing, you might promote both your original content and curated material to further establish your expertise among potential investors. Is retention important? Maybe your firm excels in multigenerational planning, and you want to create a forum for conversation and inspiration for families. Want to be known for your work in the community? Weave topics important to you into your newsletter and let readers know how they can get involved.
Because, ultimately, your newsletter is about your audience, not about you. Who are they? What are they interested in? What are their worries and dreams, financial or otherwise? Be sure to define your target market, and then take it a step further by determining what you want them to take away from any communication you send them. What's in it for them?
Do you want to offer them social, newsworthy, thought-provoking, or educational content? Or maybe all of the above? Once you know the answers to these questions, you're ready to dig into the how of creating an e-newsletter your clients—and prospects—want to read.
7 Tips for a Better E-Newsletter
1) Be authentic. What makes content authentic for readers? Content that reinforces your brand and value proposition, that reflects the experience your clients have working with you, and that is of interest to them is more likely to resonate. At Commonwealth, we see many of our advisors use the following tactics to create a stronger connection with readers:
Write a short description or offer commentary on an article or market update curated from a third party.
Share photos, with captions, of recent family, office, or community events.
Talk about recent activities or experiences (e.g., a road or bike race for charity).
Reveal insights gleaned from working with clients or offer an exploration of different scenarios and illustrate the potential solutions you can provide.
2) Use engaging titles and subject lines. When your titles and subject lines are succinct, action-oriented, and offer something to the reader, the reader is more likely to open—and read—your communication. What's more interesting to you: "ABC Company's Q3 Newsletter" or "5 Quick Tips for Pre-Retirement Planning"? Use what you know about your readers' interests to develop language that will entice them to read more. Some other tips include using numerals, asking questions, creating a sense of importance, and using the element of time. Whatever you do, though, avoid ALL CAPS!
3) Think about design. Where you put your logo, address, and contact details matters. Your first instinct may be to put this information at the top of the page. But this isn't the best way to draw readers in. The newsletter name, an article with an engaging headline, or a photo is. Instead, I recommend placing your logo and contact details near the bottom. Remember, the newsletter is about your reader, not you, so minimize promotional materials.
You also want to consider the use of white space. Numerous studies have revealed that we read differently online than we do on paper. We look for headlines and graphical elements, and we tend to scan as opposed to reading every word. So, avoiding large blocks of text, using bullet points and numbered lists, and leveraging infographics and photos can help with readability.
4) Test in a mobile environment. When going digital, you have to think about the mobile experience. Recent research suggests that three-quarters of all Americans read e-mail on their mobile phones first. What does your e-newsletter look like on a smartphone or tablet?
5) Consider the brand experience. Your brand includes your voice and tone, the words and phrasing you use, the color of your logo, the font you select, even the feelings a reader gets when looking at a photo or infographic in your newsletter. Do these aspects of your newsletter align with your website and print materials? If not, look for changes you can make to better align all of your marketing collateral.
6) Determine frequency. How frequently you distribute your e-newsletter may vary depending on your audience segments; one size doesn't have to fit all. What also matters is how frequently you think you'll have something to share. You don't want to overcommit and lose substance. Success comes with consistency, however, as readers are more likely to engage with your content if it comes when they're expecting it. To the extent that you can commit to a monthly or quarterly communication, do that.
7) Let people subscribe—and unsubscribe. Offer website visitors the opportunity to subscribe to your newsletter. Your landing page should describe exactly what subscribers should expect to receive and how often they'll receive it. Be sure to offer a preview as well. "Share" buttons that allow readers to post pieces of content to their own social media pages or e-mail the newsletter to a friend are a nice feature to include. And, of course, to comply with regulations, offer an easy way to unsubscribe.
Measure Your Results
If you're new to creating an e-newsletter, or if you've been distributing one for a while and are considering whether a redesign is in order, measure your results. Getting more insights into the reading habits of your subscribers will help inform future decisions about content, design, and frequency. Here are some of the metrics you'll want to analyze:
How many people are opening your e-mail (i.e., your open rate)? Who are they—clients or prospects?
How does your current open rate compare with your last newsletter or the one before that?
How many readers clicked on links within the newsletter (i.e., your click-through rate)?
What links were most popular?
Is your subscriber list growing? How quickly?
E-mail programs like Constant Contact and MailChimp offer easy ways to track this data. By knowing more about your readers, you can make more informed decisions about what's working and what's not. The result will be an e-newsletter that is even more aligned with what your clients are looking for from you and your firm.
Do you have an e-newsletter? What types of content work seem to work best for you? Comment below—we'd love to hear about your experiences.