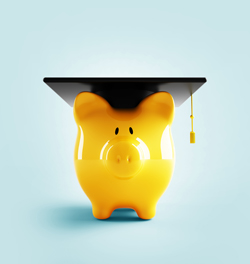 Many of your clients probably think (and worry!) a lot about education costs—particularly the expenses associated with sending their children to college. With tuition at both public and private universities continuing to rise, some parents may be wondering whether it's worth the effort to keep saving for college while also trying to meet their own retirement savings goals.
Although it may require a little extra work on your part, as your clients' trusted financial advisor, you can help clients with education planning by laying out the facts and options available to them. First and foremost, it's your responsibility to convince them that it is worth it to keep saving for their children's education.
Today's Statistics
The College Board's recently released cost figures for the 2014–2015 academic year continue to show an increase in the cost of higher education:
Public colleges. Tuition and fees at public colleges for in-state students increased approximately 2.9 percent over the last year. The total average estimated cost, including room and board, transportation, and other supplies, stands at $18,943 for the 2014–2015 school year.
Private colleges. Private schools reported an average increase of 3.7 percent for tuition and fees, putting the average estimated cost of a private school education at $42,419, including room and board, transportation, and other supplies, for the 2014–2015 school year.
The yearly increases in both categories have come down in recent years, which is a positive sign for parents trying to save for their children's education. But costs remain high overall.
A July 2014 article on Business Insider highlighted 50 colleges where the tuition, room, board, and fees topped the $60,000 mark for the 2014–2015 academic year. This list includes schools such as Fordham University, Sarah Lawrence College, Columbia, and Harvey Mudd. Academic powerhouses like Harvard, Brown, and MIT don't come cheap either, with average tuition and fees topping $50,000 per year.
Parents with a child born today face the reality that four years at an in-state public university could cost approximately $182,000—make that $408,000 for four years at a private college—based on today's cost, inflated at 5 percent for the next 18 years.
Mitigating Factors
These staggering figures can understandably overwhelm and discourage your clients. But there are many mitigating factors to consider. First, many students attend schools where the tuition is significantly less than the numbers mentioned above. According to the College Board, nearly half of all students attend schools where the tuition is less than $10,300 per year, not including room and board.
Second, very few families end up paying the full sticker price advertised by both public and private colleges, due to grant aid and education tax benefits. As reported by the College Board, students at private colleges and universities will pay an average net price of $23,550 in 2014–2015. (For more information about tools to help you analyze financial aid packages and scholarships, be sure to check out this post.)
These mitigating factors are important when you help clients plan for education costs. Most clients focus on the full price of public or private colleges and attempt to fund that amount. Even though most clients know that a package of financial aid, loans, and grants or scholarships might be made available to them, these numbers are difficult to forecast and are largely dependent on a client's personal situation at the time his or her children enter college.
As a result, clients can become disengaged from college planning when they see the seemingly unattainable numbers that they have to save each month. And if they didn't start saving almost immediately after their child was born, it can be extremely difficult to make up the lost ground.
The One-Third Model
All of you know that for clients to stay committed to saving for a goal, that goal has to be important to them—and it must seem attainable. One method to help clients with education planning is this one-third model. It's simple to explain and may just provide the psychological boost clients need to stay on track and keep saving. This rule divides college costs into three parts:
Saving one-third of anticipated college costs (past income)
Paying one-third of college costs from income and financial aid (current earnings during college years)
Borrowing one-third of college costs through a combination of student and parent loans (future income)
This model allows clients to see how they can spread the total cost of a college education over an extended period of time.
Let's revisit the projected cost of college for a child born today and compare saving for the full amount of the college expense versus saving based on the one-third rule. The projected four-year average total cost of a public university is $182,000. To fully fund that cost, parents would have to save at least $500 per month for 18 years and receive an average rate of return of 5.5 percent. Funding just one-third of that cost brings the number down to about $165 per month. For a private school projected to cost $408,000, the monthly savings for 18 years would need to be $1,100. Reducing that number by two-thirds brings it down to a little more than $380 per month.
Additional Savings Models
It's important that clients don't become overwhelmed by the numbers. If they perceive the savings plan as attainable, it will likely get them past what can sometimes be the hardest part—getting started. Once they begin, and once they have a clear goal in sight, you can help them understand how they are tracking toward that goal. And this will keep them motivated year after year.
If the one-third model still appears to be too much for families, decide on another specific—and attainable—goal to help promote a higher interest level in the process. Other savings models for clients to consider include:
Saving 5 percent or 10 percent of each paycheck per child, from the time of each child's birth
Saving at least $2,500 per year (or $50 per week) per child, from the time of each child's birth
College Savings Still Secondary to Retirement
Most planners would agree that parents should place a higher priority on saving for their own retirement over saving for their children's college expenses. One reason is that they are likely to still be working while their children are in college, meaning that they will have the ability to fund the expense from current earnings—a situation not always available during retirement. In addition, loans and financial aid can assist with college expenses, whereas you certainly don't want clients to go into debt to fund retirement.
Bottom line? If you promote more realistic college savings goals and continually track the progress with your clients, they are more likely to stay engaged in the process and see the importance of planning for and funding other goals, such as retirement.
Do you have any other suggestions for how advisors can guide clients in saving for college expenses? Please share your tips and experiences by commenting below.