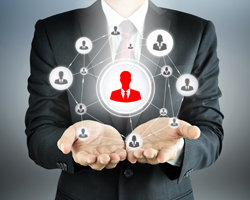 Advisors who want to grow their firms beyond organic referrals often find traditional marketing techniques frustrating. It's harder than ever to find marketing activities that lead to specific, measurable results. This is not surprising, as the marketing industry often estimates that the average individual in the U.S. is exposed to 3,000 marketing messages every day! How can a firm stand out among so much clutter?
Here are some niche marketing strategies for financial advisors to help you define and reach your target audience. The goal is to become the specialist for that audience and, over time, develop a reputation as the preferred provider for that group.
According to CEG Worldwide research, 70 percent of top financial advisors—those earning at least $1 million annually—focus on a particular niche. (And, no, it's not "wealthy people.") These advisors are specialists with expertise in solving particular problems for a very select group of people with similar needs. What should you take away from this data? Specialization makes your firm more attractive than those offering general services to a broader audience.
Define Your Target Niche's Profile
To begin developing your specialized marketing plan, you first need to determine your target market. This may be female business owners, dentists, or divorcees. Next, take the time to create an extensive profile of this audience. Not only will this help guide your strategic planning and marketing efforts, but the process can also uncover critical hot buttons and marketing opportunities. Be sure to consider the following factors:
Pressing financial concerns
Questions about financial future
Reasons for changing advisors
Important financial goals
Risk tolerance
Specialized planning needs
Personal passions
Location
Gender (Check back here tomorrow to read my article about marketing to a niche group of women.)
Age range
Occupation and employers
Memberships
Favorite publications and websites
Hobbies and interests
Accountants, attorneys, and centers of influence
Events attended
Forms of entertainment
Target Your Messaging
Advisors often define their target audience as "anybody with money." The challenge with a broad-based audience is that the message can become watered down and generic. A firm needs to find some other way to articulate a compelling value proposition. Tailoring your messaging, along with other niche marketing strategies, enables you to address the specific hot-button issues facing your target market. Your message then becomes more persuasive to those who fit that profile.
Example. I work with one advisor—let's call him Mike—who targets highly compensated corporate executives between the ages of 45 and 60. His marketing messages are tailored to executives who need to sort through complicated benefits packages, lack the time to adequately plan their finances, and may even want to retire early from their frenzied lifestyle.
Mike packages his message in a format preferred by corporate executives: a résumé. He says that his clients evaluate potential employees via a résumé, so he created a traditional résumé to showcase his own experience in the financial services industry. This relatively minor tactic has been well received by prospective clients.
Gain a Deeper Awareness
It's inherently less expensive and time consuming to market to a smaller subset of the population. A niche strategy allows you to communicate your marketing message to your ideal prospects repetitively over a longer period of time because the audience is smaller and more targeted. The more frequently your niche audience hears about you in a meaningful way, the more awareness you generate about your brand.
Example. Another advisor I've worked with, Carol, has found success working with women who are experiencing a financial transition, such as retirement, divorce, or the loss of a spouse. She participates in a women's golf league and has made many friends within the group. Although it is a social activity where conversations rarely lead to discussions about business, joining the league opened opportunities to conduct targeted marketing activities. These include educational meetings for league members and sponsorships of summer golf events. Carol can spread her message to a network in which she has already built solid personal relationships. She gains greater traction pursuing these types of targeted activities than implementing marketing initiatives geared to a broad audience with whom she has no previous connection.
Increase Your Credibility
When you specialize in the specific investment and planning needs of your audience, you become known as the go-to expert for that area of specialization. Over time, word of mouth builds your reputation as a trusted resource—perhaps the trusted resource. One tactic that advisors can use to build credibility as a subject-matter expert is to write a white paper tackling a technical issue faced by your target audience.
Examples. One advisor that I work with is a great example of this. Catherine works with LGBT clients and has written multiple white papers about the wealth management challenges and opportunities that affluent same-sex couples face today. She has built a reputation as a credible resource and thought leader for this group.
Another example is Bob; he has successfully built credibility and trust within the Verizon employee community in his area. He cultivates centers of influence within the organization and hosts numerous social events, such as golf outings, wine tastings, and fishing trips. He attends many of the employee retirement parties. And, in recognition of special events, he sends Sara Lee brownies to employee clients at their offices, who typically share them with their colleagues and discuss Bob. All of these activities have contributed to Bob's positive reputation within his niche audience, and he has successfully added 60 Verizon employee clients within a five-year period.
Enhance Your Firm's Profitability
When we put marketing considerations aside, a niche marketing strategy is also beneficial from a profitability standpoint because your clients will have specialized but similar investment and planning needs.
With this client model, you can streamline your services and operations and help manage revenue. You can also develop a product and service mix specifically for your target audience, which allows you to build scalable business models and generate higher profitability. In the end, narrowing your focus enables you to offer high-touch, high-value services to a majority of clients. And you'll never market to "anybody with money" ever again.
Now it's your turn! How did you go about creating a specialized marketing plan for your firm? Share your challenges and successes below.