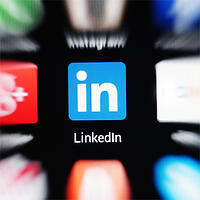 There are numerous benefits of LinkedIn for financial advisors. Most advisors I speak with have an account—and many ask me if upgrading is worth the money. Although I find LinkedIn to be an incredibly useful tool—and that a premium account can improve marketing efforts—I generally respond, "Not yet."
Why? I think LinkedIn is the perfect marketing tool to adopt slowly. When you begin by dipping your toe in the water and then wading in to your waist before taking the plunge, you'll be more comfortable throughout the entire process (and less likely to bail). Approach your LinkedIn marketing in a similar fashion: start with the free stuff, get accustomed, and incorporate it into your daily marketing tasks.
When you like what you're doing—and the results you're getting—it's time to upgrade to the Business Level, the cheapest premium account. Once you become familiar with the new, updated features, you may decide to pay more for greater quantities of them.
Here are a few benefits of premium LinkedIn for financial advisors:
Contact Anyone Using InMail
With a premium account, you can send 3 to 25 InMail messages every month. If there is no response to your message within seven days, LinkedIn will credit you the message—unused messages roll over and accumulate for 90 days.
An InMail message is more likely to receive a response than a cold call (not that you're cold-calling much). This can be a powerful tool for financial advisors to reach prospective clients.
Keep in mind: If you mention a product or service in an InMail message, your Compliance or Advertising team will probably want you to include your e-mail signature, whether you're using a basic or premium account.
See Your Profile's Viewers
With a paid account, you can access more information about who has viewed your profile. This includes access to their profile, as well as more extensive history of your profile's viewers. (With a free account, you're limited to seeing 90 days of history.) This aspect of premium LinkedIn enables you to learn the types of people interested in your financial planning services.
You can access the top keywords that led people to your profile. In turn, you can leverage this information by including these keywords on your website—and help prospective clients find you through search engines.
Search with Improved Features
Many search filters are only available to premium members. The Business Level account, for example, includes four additional search options. With these features, you can search for a more targeted group of professionals.
You can view more search results—300 or more, depending on your upgrade package. (With a free account, you can only view 100 results.)
You can save up to 5 searches every week—and get notified when new profiles fit your search criteria. These search upgrades mean financial advisors can use LinkedIn for more specific, tailored social media marketing.
View More Profiles
With an upgraded account, you can view profiles of people with whom you are not connected. By viewing their experience and education, activities and societies, as well as the groups to which they belong, you can determine if it could be valuable to contact them with an InMail message or get introduced to them.
Leverage Introductions
Introductions give you instant credibility when reaching out to new professionals or prospective clients. Premium LinkedIn facilitates more introductions by offering 15 to 35 credits.
More introduction credits give you greater opportunity to find people within companies that can introduce you to decision makers or other professionals you want to target.
You can save a list of people in your network who can provide a reference for someone you're interested in creating a strategic alliance with or hiring.
Better Customer Service
If you have questions or need help, LinkedIn's customer service department responds faster to premium account holders. Since the network has more than 200 million members, this can be a nice perk.
There are many benefits of premium LinkedIn for financial advisors, but they're not for everyone. If you're asking yourself, "Why would I need those features?" it's definitely not the right time to upgrade. Instead, focus on marketing consistently with your current account.
Trust me; you'll be ready for a premium account in no time!
Do you have a premium LinkedIn account? What do you think? Share by commenting below.