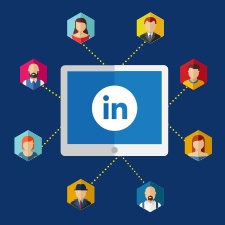 Recently, I spoke with an advisor about building his business. He planned to spend thousands on purchasing a mailing list, hundreds to create a direct mail piece, plus more money on postage and handling. He hoped that by getting in front of one or two high-net-worth prospects, and converting one to a client, it would make the return on investment worthwhile.
I told him that seemed like a lot of money, time, and energy for just one or two prospects. "Do you have a better way?" he asked. Well, I do. So I'll share with you what I shared with him: how to find prospects on LinkedIn (for free!).
LinkedIn: The Financial Advisor's Best Friend
First, I want you to stop thinking of LinkedIn as just social media. Instead, I'd like you to think of LinkedIn as the financial advisor's best friend—an amazing database and an excellent way to leverage your clients' and friends' extended business and social networks. Best of all, it's free. Are you ready to get started?
How to Search for Ideal Prospects
Go to your LinkedIn profile and click on the word "Advanced" to the right of the search box (see Figure 1). A new screen will open: the Advanced People Search. This one simple screen will be your key to unlocking the power of LinkedIn and helping you find great prospects for your business in seconds. Who would you like to look for? While you can't search for high-net-worth prospects with $500,000 in investable assets who like to delegate, for example, you can search for more concrete, tangible prospects.

Let's search for a few key prospects that most advisors find interesting. In the Keywords box at the left of this window, type "Dentists" (see Figure 2).
With this one keyword, anyone with a LinkedIn profile containing "dentist" will show up in your results. Of course, this is too broad. Ideally, you want to meet dentists who are within your geographic area. To do so, use the Location filter (see Figure 3) to further refine your search: Select "Located in or near" from the dropdown menu, enter your ZIP code and desired radius (e.g., 10 miles, 25 miles), and hit Search.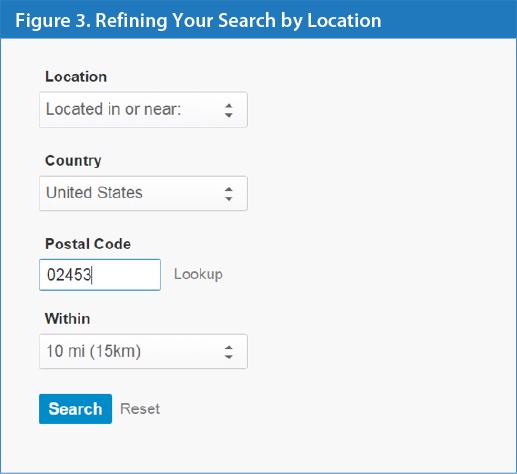 In the example here, I used the Commonwealth ZIP code in Waltham, with a radius of 10 miles, and found that 17 dentists were close at hand. (Your results will be different, depending on your network and area.) Within this list (see Figure 4), each individual has a number (1st, 2nd, or 3rd) after his or her name, which tells me how close I am to knowing the prospects.
1st means I'm already connected on LinkedIn.
2nd means I know someone connected to the prospect.
3rd means I know someone who knows someone connected to the prospect.
Your best opportunity lies in 2nd connections, as this means you know someone who can introduce you to the prospect. Keep in mind that these are not cold leads but warm prospects, because LinkedIn is now going to tell me who can introduce me to the prospect. The information is there, under "1 shared connection."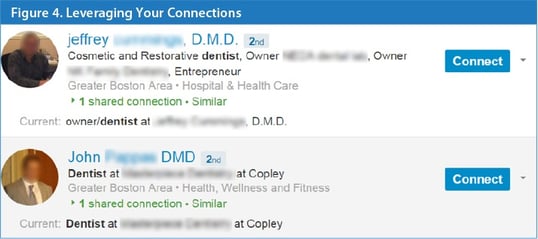 When I click on the shared connection for Jeffrey in Figure 4, I learn that my good friend Charlie knows him. I can now call Charlie to learn more about the prospect and gain valuable information that will help me approach Jeffrey. From there, it should be pretty simple to suggest to my friend Charlie that we get together with Jeffrey for lunch or coffee.
In just a few seconds, I have 17 prospects that might fit my ideal client profile and someone who can introduce me. What would you pay for that? On LinkedIn, it's free.
Let's try another search, for small business owners. Although there's no exact formula, for this exercise, I typed "LLC" into the Keywords field, since that term often appears in business owners' profiles. I also put "President" in the Title field, in order to find heads of companies. Again, I searched within 10 miles of my Waltham location.
That simple search turned in 7,659 results! That's too many, so I filtered my results to show only 2nd connections. The resulting number—1,144 prospects—was better, but still too many to research. To further tailor the search to fit your ideal client profile, look for specific businesses (funeral homes, car dealers) or centers of influence (CPAs, attorneys). If I have a special affinity for engineers, for example, I can enter "engineers AND LLC" as the keyword. LinkedIn will now find prospects who meet both criteria, delivering me a much more manageable list of 26.
How to Find Prospects Through Shared Connections
Let's do one last search, for the people whom your current clients know. I'll use Annmarie Babineau on Commonwealth's Web team as an example here; you would go through these same steps using a good client or friend of yours. When I go to Annie's profile and scroll down to the Connections section toward the bottom of her page, I see that Annie and I have 74 shared connections.

Looking through these connections might give me enough leads for my purposes. But if not, I can try to search for specific criteria using the magnifying glass to the right of our shared connections. If I'm a golfer and looking for prospects to attend a golf event I'm hosting, I can hit the magnifying glass and see which people listed golf as a hobby on their LinkedIn profile.

For Annie and me, nine people showed up in the search. Assuming I was an advisor inviting Annie (my client) to my event, I now have a list of people to research and perhaps suggest Annie bring along. You can look for different hobbies, as well as schools, charities, pets, and other information.
What Are You Waiting For?
In closing, advisors often ask me if they should pay for Premium or Navigator services on LinkedIn. I suggest you use the free version first and continue using it until you have exhausted all the benefits; then you can assess where you are. You might choose to use the free version indefinitely, or you might find that your LinkedIn success makes it worth paying for additional features.
Either way, these searches should take you only seconds to run, and the information you gain can be invaluable. If you've been dragging your feet because you don't do social media, I hope that you've got reasons to be excited about using LinkedIn as a database. You'll quickly see why purchasing a mailing list isn't going to be nearly as effective at finding good prospects as leveraging the connections you already have.
Have you used LinkedIn to find prospects? What types of searches do you use? Please share your thoughts with us below!