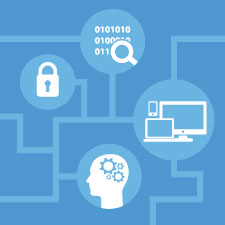 There are four trends in financial advisor technology that will play a significant role in the years ahead, as our industry looks to catch up with what's happening elsewhere:
Clients' accessing data
Cybersecurity
Increased education
Integration of multiple devices
These trends were identified by Andrew Pavia, associate digital editor for Financial Planning, Bank Investment Consultant, and On Wall Street, who reported on panelists' insights from this year's Financial Services Institute (FSI) OneVoice conference. They reveal, in part, what advisors expect of their broker/dealers today.
Meeting the Information Challenge
People today are more mobile than ever, and because we're constantly on the go:
We need to be able to access our information wherever we are.
We increasingly want the ability to solve our problems in real time, without delay.
With so many different devices—smartphones, tablets, laptops, and desktops—we need our devices to be able to "talk" to one another, so our data is omnipresent. This, unfortunately, opens doors to information security issues, as cybercriminals look to exploit vulnerabilities across these devices.
All of this leaves independent broker/dealers—organizations that are trying to deliver the tools and resources their advisors are asking for—struggling to stay on the cutting edge. Or does it?
A Passion for Technology
At Commonwealth, the nation's largest privately held broker/dealer–RIA, we have a passion for technology, so we can respond proactively to our advisors' needs. And we've got a jump-start on these trends in financial advisor technology with a total client and business management platform to power everything you do.
Here, I'll detail a few examples of how we've already responded to the above trends.
Investor360°®: Our Advanced Client Portal
"A lot of investors want to have control over what they do, and a lot of it happens through a portal," commented Marc Butler, managing director and COO of Albridge, a data and performance reporting provider.
Commonwealth has recognized this need for years, launching our own client-facing web portal back in 2006. Through this portal, affiliated advisors can give their clients online access to as much (or as little) of the information they see in our Client360°® platform as they like, including performance, gain/loss information, and advanced reports. Clients can also:
View assets that advisors manage for them, as well as assets (and liabilities) held elsewhere
See statements, tax documents, and confirms, as well as manage their paperless preferences for the same
View important documents in a secure online vault
Take advantage of integration with Quicken® and TurboTax® to help simplify tax filing
Outside account aggregation—a tool that allows clients to add their outside accounts, balances/liabilities, and holdings to Investor360°® and to have the same flow upstream to Client360°—gives important insight to advisors regarding new opportunities with clients, in addition to integration with Commonwealth's planning tools.
Currently, our Investor360° client portal is a responsive site—meaning it responds to the screen size on which it is being viewed. But we're also in the process of building a mobile app version of the site, so clients can access their financial data more easily from a smartphone.
The Commonwealth Shield: Helping Secure Advisor Offices
I don't think I have to tell you how prevalent the risk of cyber theft is today. Every day, we hear of new data breaches at major retailers and banking institutions—even the government. Commonwealth has taken a strong stance on cybersecurity, implementing a mandatory program across all advisor offices called the Commonwealth Shield.
We've used Massachusetts General Law Regulation 201 CMR 17.00: Standards for the Protection of Personal Information of Residents of the Commonwealth—one of the most stringent available—as the guideline for our program. This regulation establishes the minimum standards that need to be met regarding the safeguarding of personal information in both paper and electronic records. By adhering to these standards, Commonwealth helps ensure the security and confidentiality of customer information.
So, what does the Shield deliver?
A high-end Check Point hardware firewall
Antivirus/antispyware protection
Computer updates (Windows, Mac, Adobe Flash, etc.)
Laptop/desktop/server encryption
Portable media security
Password security
Remote VPN access
Wi-Fi access for advisor offices and a separate Wi-Fi for their office guests
Support when our advisors need it: Monday through Friday until 10:00 P.M. ET, Saturdays until 5:00 P.M. ET, and Sundays for emergencies
Dedicated Hands-On Training at Our National Conference
One of the panelists at the FSI OneVoice conference suggested that broker/dealers need to make technology education a priority at their conferences—and we agree! Commonwealth makes extensive training on our platforms available at our annual National Conference, which will be held this year in Washington, DC.
Training. We offer hands-on training sessions on applications like Practice360°® Models, our online trading and rebalancing platform, and Client360°® Planning, a system that we refer to as "financial conversation software." It allows advisors to facilitate planning discussions with clients without having to generate a full-blown financial plan.
Tech problem-solving. We also offer a Tech Desk at the conference. Advisors can have one of our HelpDesk specialists take a look at a problem piece of hardware or get guidance on particular tech-related issues. And at our CyberCafé, attendees can stop by one of several computer terminals for a demo on some of our applications. Our offering platform is robust, so we want to ensure that our advisors—and their staff—are comfortable using our tools to maximum advantage.
Integration of Client- and Practice-Level Data: Accessible from Any Device
Our 360° platform—comprising Client360°, Practice360°, and Investor360°—brings client- and practice-level information together in an integrated system that allows advisors to manage all aspects of their business. And with the addition of our next-generation Commonwealth CRM, which we've built in-house from the ground up, there won't be any aspect of their clients' financial lives that advisors won't be able to keep track of—whether they're in the office or on the go.
That's because our mobile app—available for both smartphones and tablets—provides advisors easy access to Client360°, alerts, CRM contacts, our trading engine, market quotes, and more.
Our systems also offer integration with third-party applications; for example, Client360° pushes relevant account information into our partner tools, including Morningstar®, MoneyGuidePro®, and ACCESS (Streetscape).
Commonwealth's Anything but Common® Approach
Some trends in financial advisor technology have become more mainstream. As noted by one of the panelists at the OneVoice conference, David Fetter, CEO of Fetter Logic (a data solutions provider), there is value in being able to "tell an advisor he can do that paperwork in his client's kitchen electronically." We offer that, too, by the way, through our e-Signature platform. Still, the industry at large has some catching up to do. At Commonwealth, we continue to lead the charge.
Have you noticed other trends in financial advisor technology? Have you implemented any cybersecurity measures? Please share your thoughts with us below.