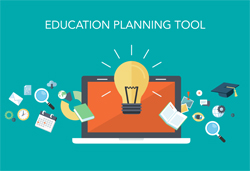 There are many college-planning practitioners who do a good job helping families with the admissions process and financial aid eligibility but do not have clients' long-term financial health in mind. You, on the other hand, are likely to work with clients not only to develop a sound plan for funding their children's higher education costs, but also to help them secure a comfortable retirement.
Smart education planning involves a long-term savings plan, as well as careful analysis as the child applies for and selects a school. I recently shared some strategies for motivating clients to save over time. Today, let's look at some strategies and an education planning tool for advisors working with clients whose children are currently applying to schools or have several acceptance letters in hand.
Evaluate Exclusivity Versus Affordability
All parents will tell you that they want to provide the best opportunities for their children. When it comes to college planning, some may equate their success as parents with the exclusivity of the college their child attends. But with the most expensive private schools topping out at almost $60,000 per year (for tuition, room and board, and fees) and many other schools above $40,000 per year, the affordability of college is fast becoming a critical component of the planning process.
Increasingly, families will have to closely consider the value of education and how much debt they want to burden their children (and themselves) with. Indeed, it's not always about going to the most exclusive school; it's about selecting the college that is the best fit for the student and the family's financial situation. Be sure to discuss this with your clients, preferably several years before their children begin applying.
Adding a New Tool to Your Practice
Once your client's child begins researching and applying to schools, you can add tremendous value by assisting him or her in evaluating different options. One tool I recommend, Smart SearchTM from Stratagee, is software for advisors to assist clients with college planning.

This web-based tool can provide you with a variety of benefits; it can enhance your goal-planning discussions, give you an opportunity to charge planning fees, and help you gather more assets through a holistic planning approach.
Smart Search focuses on the important questions of admissibility and affordability. The hallmarks of this software are its ease of use and its ability to list several colleges side by side in one report, enabling quick analysis of a child's likelihood of admission into and the affordability of each school. Smart Search provides you with an effective way to engage clients and prospects, offering them information that would have taken hours for them to research on their own.
One of the most powerful features of Smart Search is the net cost information. This data is important because it compares the real cost of each school after netting out a potential financial aid award; this may show that a more expensive school is more affordable than originally thought.
For example, Duke University has a total cost of approximately $63,530 and typically meets 100 percent of a student's financial need; the University of Connecticut's out-of-state costs are about $20,000 less per year than Duke's, but the school typically meets only about 70 percent of demonstrated financial need. Smart Search will reveal that the net cost of Duke could be several thousand dollars less per year than the state school.
Smart Search can also help you quickly and easily address these clients concerns:
The student's likelihood of admission for 1,100 colleges nationwide

The estimated financial aid eligibility at each school

The family's qualification for the American Opportunity Tax Credit ($2,500 per year)
For additional planning functionality, Smart Search software uses sophisticated calculation methods to help you determine a family's best strategy for paying for college; it also shows the effect that paying for college has on parental assets for retirement. Smart Search illustrates the optimal deployment of the parents' and students' assets and earnings by calculating the parents' ability to claim the American Opportunity Tax Credit and determining the impact of income-shifting and gifting strategies to potentially reduce taxes.
Smart Search also:
Calculates the impact of various asset types on need-based financial aid eligibility

Measures the impact of Roth IRA conversions on need-based financial aid eligibility

Sets preferences regarding private student loans and Parent PLUS loans

Explores how changes in assets, income, and academic scores can improve aid eligibility
Smart Search offers ease of use for you and sophisticated but easy-to-understand reports for your clients. This education planning tool for advisors enables you to integrate education planning into the holistic financial planning approach you have with your clients.
Do you use Smart Search at your practice? Do you use another tool? Please share!