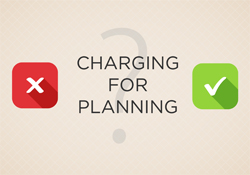 Are these planning clients, or should I just propose managing the assets? Okay, they're planning, but if I go too high on a planning fee, they might not hire me, and they've got a large IRA I could manage. Alright, I'm going for a planning fee, which should be about $2,000. This is a complex case, but that's a lot . . .
Does this kind of self-talk sound familiar? It's common for financial advisors to have apprehensions when it comes to charging for planning. I see this among young advisors building their client base, as well as with successful, tenured advisors. You, too, may know that you need or want to start charging for planning, but are afraid of what your clients might think. After all, there's always the possibility that they will go down the street for a less expensive advisor.
Behavioral psychology can play a role in helping to overcome these doubts. But advisors need to think more tactically as well. What is your time worth, and how much of it are you spending with each client? Are you delivering sufficient value with that time and advice? These are not easy questions to answer. But the more you address them, the more efficient and profitable your practice can become.
The Psychology of Charging
One way to frame the what-to-charge discussion is a graphic I affectionately call the inverted wedge.
Many advisors agree that, as assets grow, the fee charged to manage those assets should decrease. Nevertheless, as net worth rises, more issues arise that require guidance. For example, a client with a net worth of $500,000 would likely not require an analysis of asset protection strategies or ideas to mitigate estate taxes; however, a high-net-worth client certainly would, and such planning takes time.
So while the wedge can give guidance, it doesn't make it any easier to ask your client to pay a $5,000 planning fee. The first step may be to address the emotions and psychology of charging for planning.
Kol Birke, Commonwealth's financial behavior specialist, offers, "As trite as it might sound, your own level of comfort and confidence is going to determine the outcome of this conversation the vast majority of the time. Try it first on a client you are comfortable with or whom you think won't flinch at such a proposition. Once you've practiced a few times on clients who will likely be amenable, try it on a client you don't mind losing. Pick a grouchy client and stand your ground. You'll gain a bit of confidence from the easy clients, but you'll gain even more from the difficult ones!"
For those who have integrated consulting fees on top of advisory fees, they've often done it with new clients. Yet it's equally important to audit the amount of time you dedicate to each client—new or old—and be sure that you're not inadvertently discounting your services to needier clients. To help you do this, I suggest taking the following four steps.
Step 1) Prepare for the Conversation
Your CRM system is the first place to look. How many documented contacts do you have per client? What proportion of your clients takes up most of your time or that of your staff? Do you have clients who don't pay for planning but who are, based on their needs, getting it for free? It may be eye-opening to discover who is taking up your time and the revenue generated. This could open the door to proposing new, more appropriate pricing in your next review.
Step 2) Evaluate Your Consulting Fees
For new clients, the wedge may give guidance and set the stage for your engagement, but it might also make sense to reevaluate what you charge for consulting fees at the end of the first year. For example, the initial fee for planning and for a deliverable, comprehensive plan may be higher than for updates; nevertheless, it's important to gauge the amount of time you spend on serving the client during that first year and set reasonable expectations for pricing going forward.
This is also an opportunity to find out what your clients think you have provided. Did they need more or less contact? Analysis? Ideas? That can also help you demonstrate your value to them and shore up the case for charging appropriately.
Step 3) Assess Your Annual Reviews
The annual review with your clients shouldn't just be about how you and they are doing; it should also include a review of the work up to this point. For example, have you worked closely with the client's CPA to help minimize the client's tax bill? How has that benefited the client's pursuit of his or her goals? Or, maybe you've talked about long-term care in the past and it's time to revisit the conversation. Anything that helps show clients what you've done for them and what still needs addressing will bring the discussion back to what's important to them, which drives the value behind your fee.
Step 4) Don't Talk Yourself Out of Appropriate Pricing
After doing some analysis, establishing your tools, and preparing a game plan for implementing proper pricing, you may still feel apprehensive about proposing your price to clients. W. Timothy Gallwey's The Inner Game of Tennis: The Classic Guide to the Mental Side of Peak Performance, a landmark book published in 1974, explains that every game has an outer game and inner game. Even with all the practice and skill necessary, great players need to manage and address the self-doubt that creeps in. Rather than over-think, they just need to play.
When it comes to your work as an advisor, here's my advice: You know how to do great work for clients—and you know the value of your model—so don't lose your gumption by talking yourself out of appropriate pricing.
Do you charge for planning? How did you start charging for these services? Comment below to share your challenges and successes.