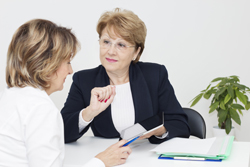 Many of the women portrayed in movies and television are independent, wealthy, and confident. They have beautiful homes, designer clothing, and an endless supply of Jimmy Choo heels. (Ladies of Sex in the City, I'm talking about you.)
But real women—as self-sufficient and sophisticated as they may be—face more complicated realities. It may not be a glamorous topic to consider, but all of your female clients need long-term care planning because:
Women usually live longer than men.
Women usually earn less than their husbands and men in general.
Women usually end up with decreased income if they outlive their husbands; many become vulnerable to poverty.
Women tend to be more conservative investors over their lifetimes.
The cumulative result of these factors is that women are more likely than men to need long-term care—and they are much less likely to be able to afford it.
This discouraging fact makes me want to mix myself a Cosmopolitan, à la Carrie Bradshaw. But, instead, I'll show you how addressing long-term care planning for women can help you become an invaluable resource to your female clients.
Common Concerns Among Female Clients
In general, all women have two major concerns surrounding aging:
They may want to leave assets to children, grandchildren, or charities.
They may worry about becoming a burden on family members.
A long-term care plan addresses both of these concerns by providing the cash flow to pay for health care expenses and helping protect the client's estate, enabling her financial plan to execute the way she intended. The plan also enables the client's family to manage care, rather than serve as the actual caregivers.
To help ensure that all of your female clients plan for long-term care, I believe it's important to first assess their individual attitudes toward this planning—and then speak directly to how a long-term plan addresses each woman's specific concerns. To help you do this, I've outlined some common profiles of female clients. Bear in mind that these are generalizations, but they can help you communicate more effectively when it comes to long-term care planning for women.
Profile 1: Female Clients Who Actively Seek Your Counsel About Long-Term Care Planning
With a receptive client, the best approach is to discuss her concerns and develop a long-term care strategy within the framework of her overall financial plan. You may want to prequalify the client to ensure that she's eligible for long-term care insurance (LTCI). Then, present her with several choices of carriers, coverage, and premiums, as well as recommendations for funding the plan. Funding options can include paying premiums out of income, using dividends from investments, paying through a business, or utilizing 1035 exchanges from annuities or cash value life insurance.
Profile 2: Female Clients Who May Not Be Well Informed
Here, your best strategy is education, analysis, and perseverance. For clients in their late 40s or early 50s, schedule a dedicated long-term care planning meeting. Illustrate potential long-term care costs based on the projected cost of care for a short-duration event (one year), a medium-duration event (three years), and a catastrophic event (six to ten years), as well as the impact of those scenarios on cash flow. Explain how a long-term care plan can protect the client's income and assets and present a funding strategy.
If she resists, revisit the subject the next year and every year thereafter. Sometimes, a client who has refused LTCI in the past experiences a personal situation that prompts her to reconsider it.
Profile 3: Affluent Clients Who Believe They Have the Resources to Pay for Long-Term Care if Needed
Affluent clients may believe that self-insuring is the best way to fund long-term care expenses. For this type of client, you might introduce a linked-benefit solution—that is, a single-premium life policy with long-term care benefits and a death benefit—as a smarter way to self-insure. Repositioning existing "lazy money" into a linked-benefit policy can provide excellent leverage for long-term care expenses, in addition to an income tax-free death benefit in the event that long-term care isn't needed.
Profile 4: Female Clients Who Defer to Their Husbands About Long-Term Care
When I sold LTCI, couples' body language clearly indicated their attitudes. Often, the woman leaned forward and listened intently, while the man leaned back with arms crossed against his chest and "no" written all over his face. In these situations, it was clear that the husband didn't believe he would ever need long-term care or assumed that, if he did, his wife would be his caregiver.
Like other planning discussions where husband and wife may have different perceptions or goals, this challenging situation requires a sensitive approach—and possibly some marriage counseling skill. Emphasize to both the husband and the wife that it's true they may never need long-term care, but if they do, the consequences to their family and finances could be catastrophic. Reiterate that, as their advisor, it's your responsibility to help them manage risk, whether that means purchasing LTCI or setting aside a large enough sum of money to cover care for several years.
When discussing long-term care with a reluctant husband, you may find the planning strategies below helpful:
If appropriate, propose a linked-benefit policy to counter the objection of paying premiums for care the client might never need.
Design a plan for catastrophic coverage that shows lower, more palatable premiums.
Present a shared-coverage plan with a shorter benefit duration to lower premiums. This type of plan can provide reasonable coverage because it's more likely that only one spouse will need care.
Develop a more robust plan for the wife and a nominal plan for the husband so that they qualify for a full couples discount. Often, this is less expensive than if the woman applies for coverage by herself.
All Female Clients Need Long-Term Care Planning
It bears repeating: long-term care planning for women is vital. Whether your client chooses traditional LTCI, a linked-benefit product, or another option, a woman who plans for long-term care protects her financial plan, her family, her health, and—certainly not least—her independence.
Do you have any tips for advisors to help them develop a long-term care plan for female clients? We'd love to hear about and learn from your experience and expertise! Please share by commenting below.