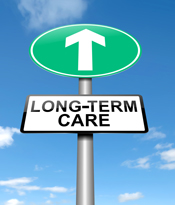 Let's face it: talking about prolonged illness and mortality isn't anyone's idea of a good time. But it's a discussion that all good financial advisors should be having with their clients to ensure that there's a plan in place to protect clients' retirement savings from potentially costly medical expenses.
This list of long-term care questions can help guide you and your clients throughout this challenging conversation, as well as help ensure that you leave no stone unturned.
Long-Term Care Questions Financial Advisors Should Ask Clients
1) Have you had a personal experience with long-term care? With a relative or a close friend? Are you aware of the likelihood that you or someone you know will need care?
Remind clients that more than 45 percent of people age 65 and older will spend time in a nursing home. Those expected to use home health care is more than 70 percent. Also, many clients don't realize that most long-term care is provided by friends and relatives.
2) Are you aware of the cost of long-term care in your area? What will it cost you per day to live in a nursing home or receive home health care? Per year? Have you developed a plan to pay for this in the event that you get sick?
3) Do you have children or other family who will help take care of you? Do they live near you? Would they be able to care for you if you became disabled?
Long-term care insurance will allow clients to do it better and for a longer period of time by providing the funds necessary to hire a professional to assist with some of the more personal needs they may have.
4) Where do you plan to reside when you retire? Where you currently live? Would you move to another state or even another country? Do you know what it would cost to receive care there?
5) If you were to become disabled, how would your stream of income change? Would it increase or decrease? Would it remain the same?
6) What is your medical history? What is your family's medical background? Do you know if conditions such as Alzheimer's disease, Parkinson's disease, or dementia run in your family? What about longevity? The most important thing about making a decision to buy long-term care insurance is that you make it while you are young enough and healthy enough to do it.
7) Do you have other assets that would help pay for the cost of long-term care? Do you have a pension? A retirement account? Any savings or investments? Would you need a policy that would pay for the total cost of long-term care or just one that would pay enough to help you co-insure the risk?
8) Do you have any dependents? Do you have a disabled spouse, child, or sibling for whom you are providing care? What would happen to them if you became disabled?
9) What are you looking for a long-term care policy to provide to you? Have you done any research on long-term care policies and the companies that sell them? What features are important to you? Nursing home care? Home health care? A policy that will pay for coverage outside the U.S.? Do you want a policy that will cover you for as long as you need it or for a set period of time?
10) Are you aware of what Medicare and Medicaid will actually pay for long-term care, if anything? Did you know that in order to qualify for Medicaid, you will be required to spend your assets down to Welfare levels before Medicaid will pay the bill? Did you know that Medicare may pay a portion of the first 100 days in a nursing home, but nothing after that? Or that it only covers for "skilled" care at home, and that most care needed at home is "custodial"?
Frame the Conversation Around Preparedness
This is a difficult topic to discuss, and clients may become uncomfortable quickly. To help ensure a productive discussion, be sure to focus long-term care planning conversations around preparation and security. Emphasize that there may not be a need for long-term care, but it's important to have a plan in place for this possibility.
Long-term care planning can help you achieve the ultimate peace of mind for your clients—the knowledge that their financial stability and wishes for their wealth will not be wiped out by any medical condition.
How often do you talk with clients about long-term care planning? Do you ask them any other important questions? Share by commenting below.